Probably the best integrated motors in the world
---
All-In-One ServoStep motors with Safe-Torque-Off.
TÜV-approved for Safety integrity level 3
---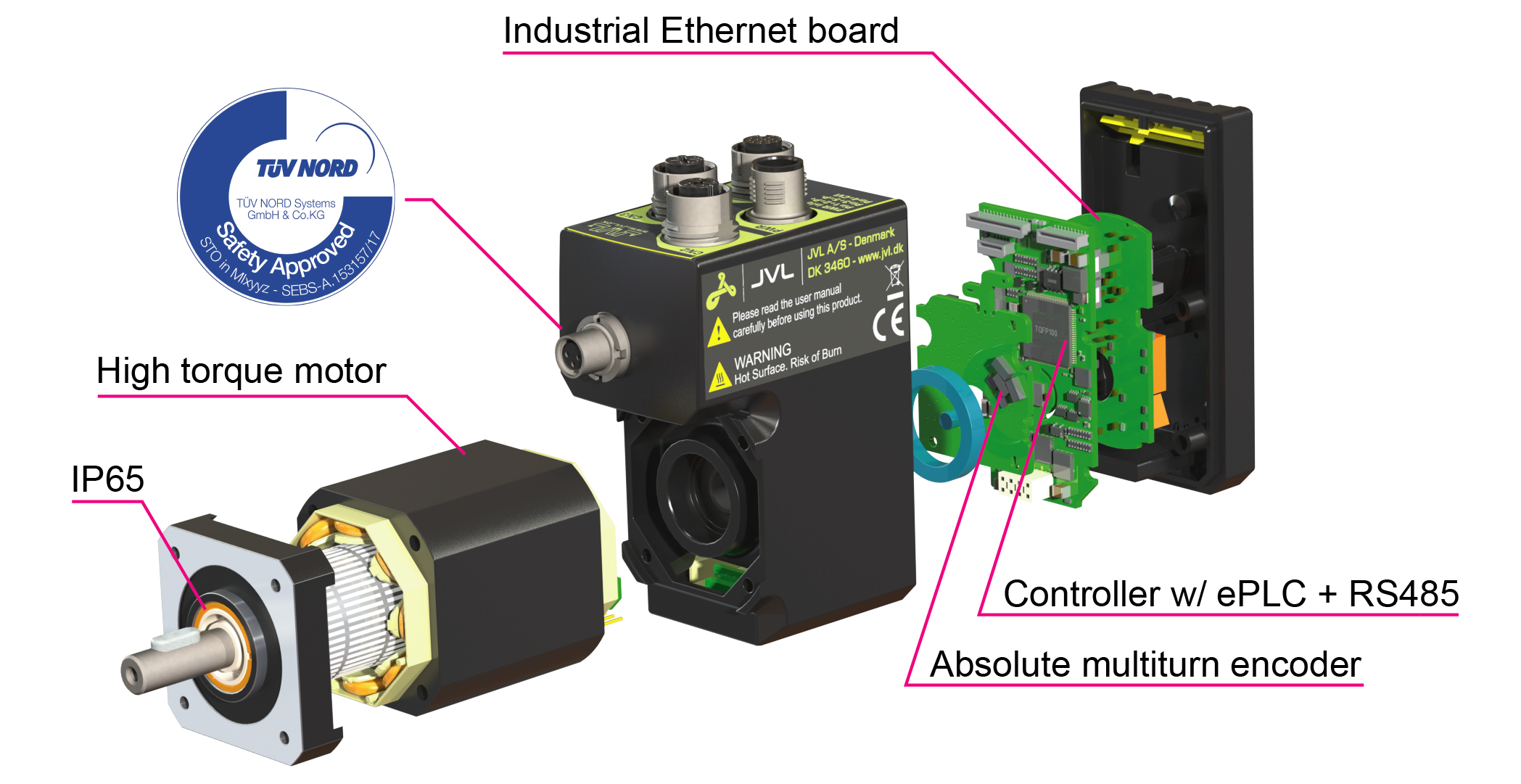 ---
CANopen for MIS ServoStep motors now with DSP 402 and Synchronization

The MIS motor range MIS17/23/34/43 and Stepper Motor Controller SMC66/85 now have a completely new firmware update including DSP402 where sync, interpolated position mode is supported.

All motor functions available in CANopen through DS301 gateway objects
Easy configuration and test of SDO and PDO from PC through JVL CANexplorer.
DSP402 with Profile Position Mode, Velocity Mode, Homing Mode, and Interpolated Position Mode.
TwinCAT 3 compatible



---
Electric Actuators and Linear Movements with NEMA17 size Motor

JVL offers two solutions for linear movements both with ServoStep motor.

One is a piston style electric actuator perfect for replacing pneumatic actuators.

The other is an open spindle type for when you want to design your own guides. It is available with either a plastic nut for low duty cycle or a rolled ball screw for fast and precise movements.

Electric actuator with piston (captive)
Open spindle with external POM nut
Open with rolled ball screw



---
JVL Webinar "ServoTalk"

JVL is now hosting a series of free webinars called ServoTalk. It is a great opportunity to learn more about JVL products and ask any question you might have.


Sign up for an invitation to future webinars

here.



---
We now have a new series of power supplies!

The new PSUs are in general stronger, with double power and take up less cabinet space.With features such as 150% overload, over voltage, over load and over temperature protection and high efficiency.

24 VDC power supplies with 120-1000 W output, with the option for 1 or 3 phases
48 VDC range we offer power supplies with 480-1000 W output, with the option for 1 or 3 phases.
72 VDC 1000 W 3 phase power supply, for high-speed applications.

Please also check out our new guide for powering your JVL motor

here.



---
MAB17 - Electronic brake for all NEMA17 motors.

The electronic brake is designed to be mounted on step- and servo motors with NEMA17 flange 42x42 mm. A high quality 24 VDC electro-magnetic spring brake is mounted inside the housing. The brake use hub connection to brake disc so it can be mounted on motors with axial play. Holding torque is 0.4 Nm - 0.7 Nm.



---
MAC1200 - integrated servo motor for medium power ratings

All with built-in mains power supply, 115/230 VAC up to RMS power 1200 W. The MAC motor® series consists of compact and efficient motors where controller, PLC, encoder, power supply and bus system are integrated in one unit. Optional industrial Ethernet, fieldbus, IP protection class, abs. multiturn encoder, brake and much more.



---
UL certificate for integrated stepper motors NEMA34

The JVL series MIS340-343 is now recognized with the prestigious UL certificate of compliance effective in both the US and Canada.

The series offers an abundance of options including closed-loop, Safe Torque Off (STO), Industrial Ethernet, absolute multiturn encoder, up to IP67 protection, double shaft, hollow shaft and built-in brake.



---
Stepper Motor Controller SMC66 with Housing

Our newest stepper controller/driver SMC66 provides all the features from our well-tested SMC85, only now in a smaller more affordable package and a RMS motor current of 0-6 Amp.

All Ethernet protocols are available, as is the built-in ePLC, 8 configurable I/Os, CANOpen, Pulse/Direction mode and much more.

STO - Dual channel Safe Torque Off
IP65 grade protection
Separate encoder input
MacTalk, the same easy-to-use software as for all JVL products



---
High-torque stepper motors with built-in encoders and high IP protection

Stepper motors with built-in incremental encoder or optional absolute multiturn encoder in different pulse resolutions and IP42/IP67 protection. NEMA08 to NEMA34 with torque from 0,01 to 3,1 Nm.



---
Hollow Rotary Actuators HLMT

Our new series of Hollow Rotary Actuators, HLMT, offer the easiest possible installation of rotary table applications.

Choose between servo and stepper motors - with or without built-in (absolute) encoders.

No need for space in your electrical cabinet: Drive and control electronics are built-in!



---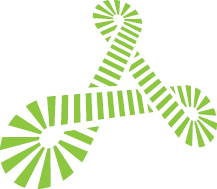 If you do not wish to receive any further newsletters from JVL then

click here

.