CANopen for the ServoStep™
integrated stepper motors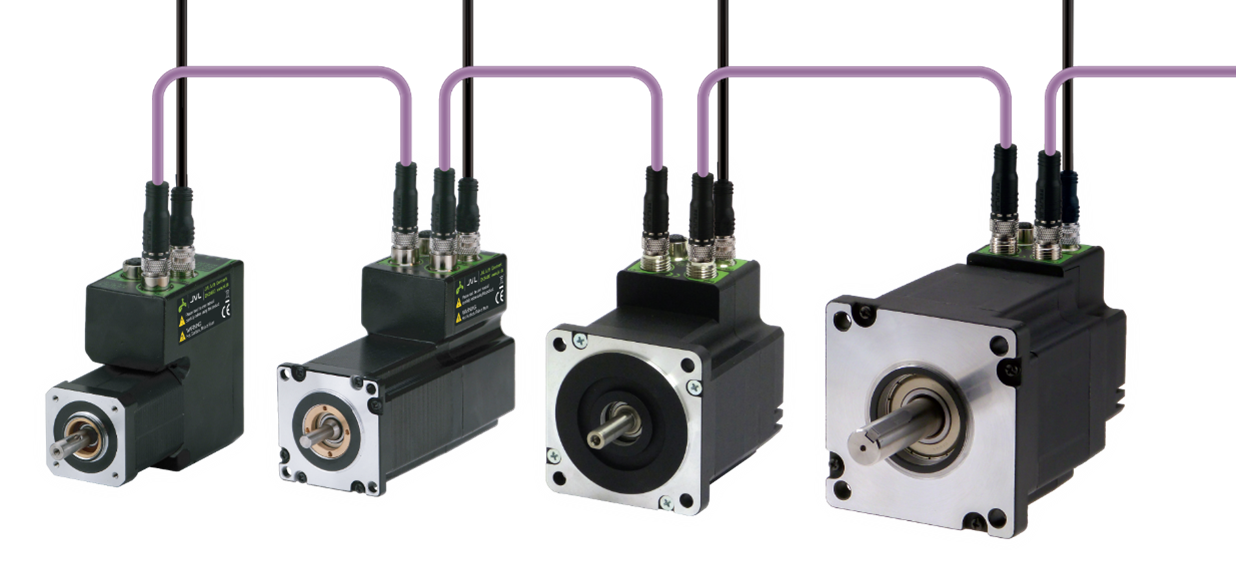 Birkerød, Denmark
- JVL A/S, one of the world's leading producers in the field of integrated servo and stepper motors, is announcing an improved implementation of the CANopen protocol for slave operation.
All motor functions are available in CANopen through gateway objects with selectable data rate up to 1 Mbit/s. Monitoring and debugging features with JVL's MacTalk® software. CANopen over MacTalk® also possible. Easy configuration from PLC through JVL CAN explorer.
CANopen – DS 301 and DSP 402 support
CANopen – DSP402 in Profile Position & Velocity mode, Homing (Zero Search) mode and Interpolated Position mode
Read and write access to all 512 motor registers
Up to 24 programmable TX PDO and 24 programmable RX PDO
≥ 5 kHz asynchronous PDO update with default mapping
≤ 2 ms interpolation synchronization
EDS Electronic data sheet
TwinCAT 3 compatible: TwinCAT 3 sample project can be downloaded
CANopen as NC axis in TwinCAT - step by step TwinCAT 3 setup guide
JVL has developed another smart feature for ServoStep™ motors running CAN bus: the "Slave-follower-mode".
With this mode you don't need an external master – you simply use one of the motors as Master and the other motors as Slaves. Up to 8 motors can run synchronized. Contact JVL to learn more about this Master-Slave mode. NB! This mode doesn't follow the CANopen standard.
New firmware

| | | |
| --- | --- | --- |
| The MIS motor range MIS17/23/34/43 and Stepper Motor Controller SMC66/85 now have a completely new firmware update including DSP402 where sync, interpolated position mode is supported. JVL now supports master-slave synchronization without external PLC. The new feature will let you quickly set up applications like lifting a load in 4 corners. MacTalk is used to program the master motor. You can connect up to 29 slaves. The master automatically finds the slaves on the bus, and the master automatically. configures them. A primary benefit is the speedy setup time. For easy control, a JVL HMI can be added to the master motor. The new Master-slave feature is supported by all MIS Integrated ServoStep motors with CANopen. | | |
All motor functions available in CANopen through DS301 gateway objects
Easy configuration and test of SDO and PDO from PC through JVL CANexplorer.
DSP402 with Profile Position Mode, Velocity Mode, Homing Mode, and Interpolated Position Mode.
Non CAN standard Master-slave follow motor where up to 30 motors can run synchronized
TwinCAT 3 compatible
Synchronized velocity mode
Synchronized Position mode
Synchronized homing.
Slave monitoring
Speed correction for closed loop motors
Up to 29 slaves
Sync interval 10 mS
Under development sync interval 2 mS with max 8 slaves

ServoStep™ Motors
JVL's integrated stepper motors have everything built-in: high torque motor, incremental or absolute multiturn encoder, driver electronics, controller electronics with ePLC™ and RS485 communications bus. Also included are 8 I/O points which can be individually configured as digital input, digital output or analogue input.
The CANopen circuit include transceiver hardware and two M12 connectors for easy daisy-chaining of cables from motor to motor.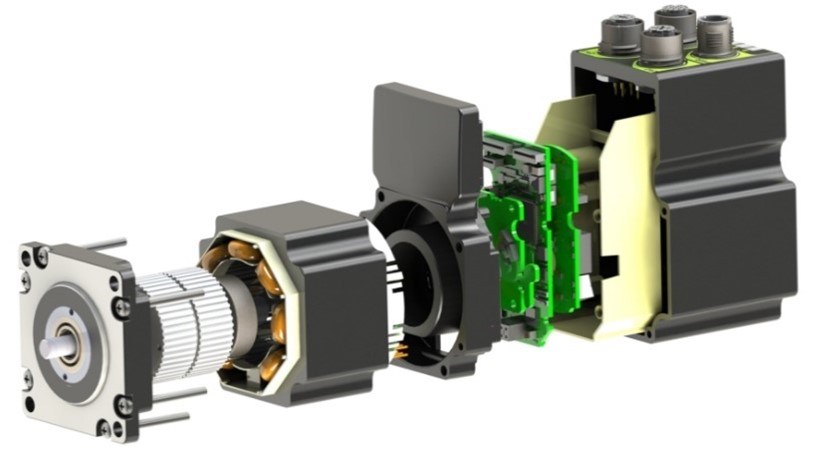 Wide size range from NEMA 17 to NEMA 43 with Holding Torques of 0.18 - 25 Nm
Closed-loop control – no loss of steps or position
Energy efficient due to Automatic current control
Built-in ePLC™ with 8 DIO, 24V or 0-5V (12bit) analog input with advanced filtering
Ultra-high resolution: 409600 step/rev
Speed-resolution down to ±0.01 RPM
Change speed or torque or other parameters "on-the-fly" (while driving)
Top or rear-end mounted M12 connectors or Option M23 hybrid connector
Instead of CANopen there are options for all major industrial Ethernet protocols
Option: Absolute multiturn encoder
Option: Double shaft and electro-mechanical brake
Option: STO (safe torque off, SIL3)

For further information, please contact:
JVL A/S, Bregnerødvej 127, 3460 Birkerød, Denmark.
Tel. +45 4582 4440. E-mail:
jvl@jvl.dk
. Web:
www.jvl.dk
About JVL
- JVL is a world leader within the development and production of efficient and compact integrated servo motors and integrated stepper motors. MAC motor® are a series of integrated brushless servo motors (up to 4500 W and 13.5 kW peak) and ServoStep® are a series of integrated stepper motors (up to 25 Nm). Both the servo motor and stepper motor series include motor, controller, ePLC, encoder and bus system integrated into one compact unit. All industrial Ethernet protocols like Profinet, EtherNet/IP, EtherCAT, Sercos III, ModbusTCP and Powerlink are available.
Options include: absolute multiturn encoders, STO (safe torque off, SIL3) and brakes.

JVL has more than 25 years of motion control experience and are well known for their development and production of highly specialized integrated motors with industrial Ethernet and customized improvements. The close co-operation with customers and representatives result in cost-effective and technical optimized solutions for both basic and advanced motion control applications.


JVL's wide selection of quality products for motion control applications include: Integrated brushless Servo motors, Integrated Stepper motors, AC Servo motor controllers, Motor drivers (DC, AC and Steppers), Brakes, Gearboxes, Hollow Rotary Actuators and HMI touch panels.