New line of JVL power supplies: 120-1000 W, 24-72 VDC, 1 and 3 phases
PRESS release:
April 2023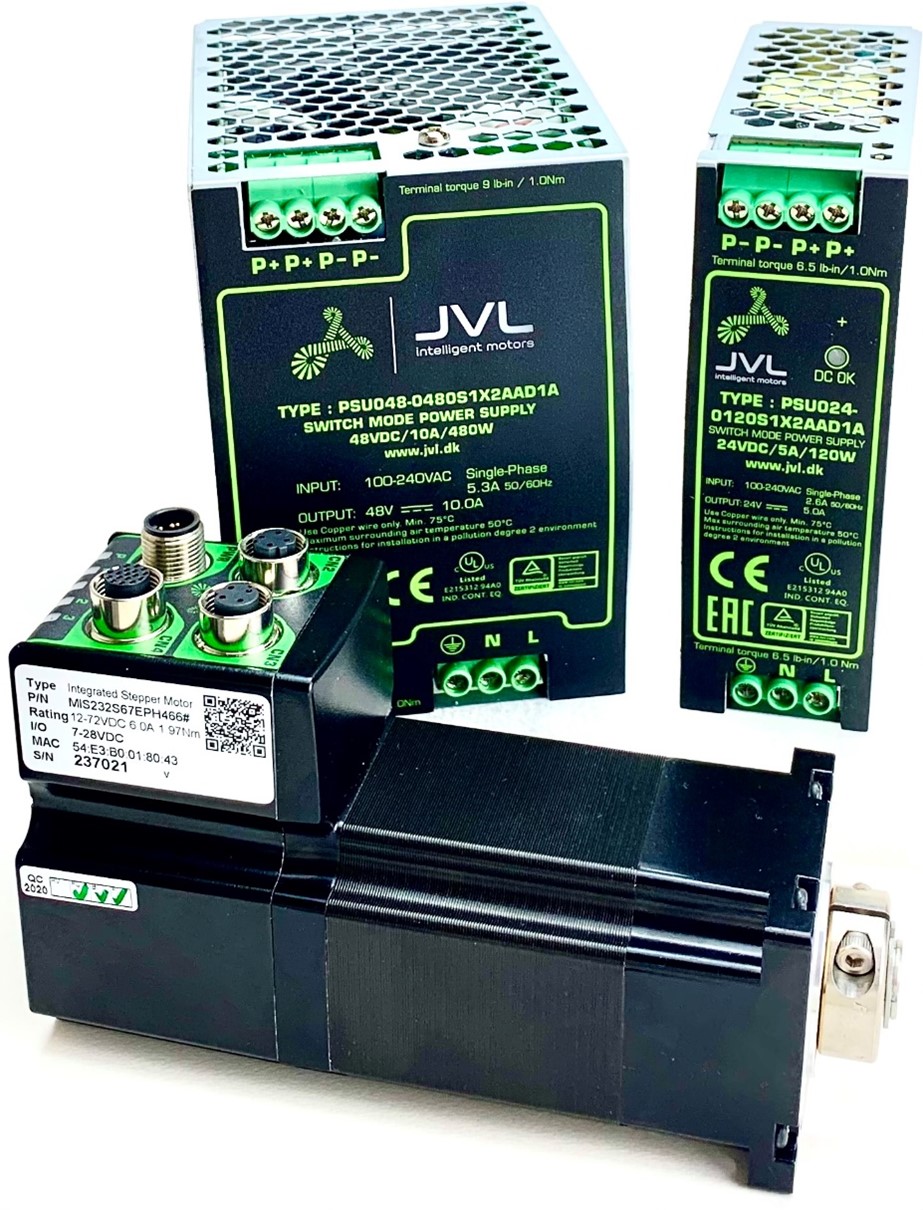 Birkerød, Denmark
- JVL A/S, one of the world's leading producers in the field of integrated servo and stepper motors, is announcing a new series of industrial grade DIN-rail power supplies.
The new power supplies are in general stronger, with up to double the power compared to JVL's previous series.

Our integrated motors already save you a lot of cabinet space, with our new line of power supplies, we can save you even more.
The new power supplies are much smaller compared to the previous power supplies. The new 480 W size is half the size of the previous 240 W size!

Short delivery times and the best technical support
We normally keep stock of the most common models, and we keep the production time short. We are an engineering company and know every detail about our products so we can give you full support.

A power supply that fits your JVL motor and your application
With the new line of power supplies, it is easy to find the right power supply for your application. With a total of 8 new models, we are sure to find the best suited power supplies for your application.
We now offer 24 VDC power supplies with 120-1000 W output and with the option of 1 or 3 phases.
For the 48 VDC range we offer power supplies with 480-1000 W output, also with the option of 1 or 3 phases.
For high-speed applications we offer a 72 VDC 1000 W 3 phase power supply.

Below is a list of highlights for the various models. For full datasheets of the individual models, please contact JVL.

Up to 150% overload – to allow high acceleration
Overload protection: Constant current limiting and auto recovery
Over-temperature protection
-30 to +70°C working temperature
Wide input voltage range
Over-voltage protection
Key approvals: UL, TÜV, EAC, IEC, CE
Up to 94,5% efficiency
Parallel coupling with current sharing for up to 4 kW output power
Below is a complete list of the new power supplies:
PSU024-0120S1X2AAD1A 24 VDC/5A 120 W 90-264 VAC
PSU024-0480S1X2AAD1A 24 VDC/20A 480 W 90-264 VAC
PSU024-1000S1X2ACD1A 24 VDC/40A 960 W 180-264 VAC
PSU024-1000S3X4BBD1A 24 VDC/40A 960 W 3x340-550 VAC
PSU048-0480S1X2AAD1A 48 VDC/10A 480 W 90-264 VAC
PSU048-1000S1X2ACD1A 48 VDC/20A 960 W 180-264 VAC
PSU048-1000S3X4BBD1A 48 VDC/20A 960 W 3x340-550 VAC
PSU072-1000S3X4BBD1A 72 VDC/12A 864 W 3x340-550 VAC
Ideal power supply for control voltage or a single supply for a MIS motor
The 24V 120W PSU (PSU024-0120S1X2ABD1A) is perfect for control voltage and driving a single small MIS motor. Single motor applications have less risk of voltage drop and using a single supply for a single motor can be a good solution when looking for an attractive total price for small applications.

Please also check out our new guide for powering your JVL motor
Please contact JVL for a datasheet and a quote, or for technical guidance.
Read more about the new power supplies here

For further information, please contact:
JVL A/S, Bregnerødvej 127, 3460 Birkerød, Denmark.
Tel. +45 4582 4440. E-mail:
jvl@jvl.dk
. Web:
www.jvl.dk
About JVL
- JVL is a world leader within the development and production of efficient and compact integrated servo motors and integrated stepper motors. MAC motor® are a series of integrated brushless servo motors (up to 4500 W and 13.5 kW peak) and ServoStep® are a series of integrated stepper motors (up to 25 Nm). Both the servo motor and stepper motor series include motor, controller, ePLC, encoder and bus system integrated into one compact unit. All industrial Ethernet protocols like Profinet, EtherNet/IP, EtherCAT, Sercos III, ModbusTCP and Powerlink are available.
Options include: absolute multiturn encoders, STO (safe torque off, SIL3) and brakes.

JVL has more than 25 years of motion control experience and are well known for their development and production of highly specialized integrated motors with industrial Ethernet and customized improvements. The close co-operation with customers and representatives result in cost-effective and technical optimized solutions for both basic and advanced motion control applications.


JVL's wide selection of quality products for motion control applications include: Integrated brushless Servo motors, Integrated Stepper motors, AC Servo motor controllers, Motor drivers (DC, AC and Steppers), Brakes, Gearboxes, Hollow Rotary Actuators and HMI touch panels.