Worlds Most Compact
1200 W Integrated Servo Motor
PRESS release:
November 2019, updated May 2021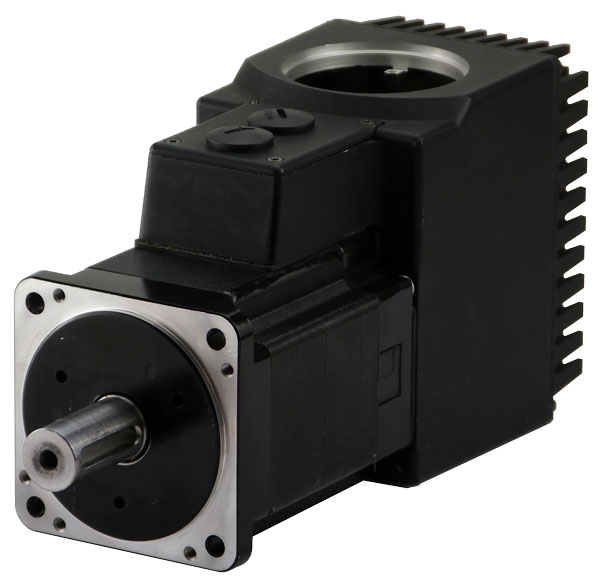 Birkerød, Denmark
- JVL A/S, one of the world's leading producers in the field of integrated servo and stepper motors, introduces a compact 1200 W integrated servo motor, MAC1200.
The well-known MAC800 now has a larger sibling, the MAC1200: it has and a torque of 3.8 Nm RMS and 11.4 Nm peak at 3000 RPM, thus providing 1200 W continuous power, but still with the same 84x84 mm flange and a length of only 204 mm. This has only been possible through the use of extremely compact motors and the development of electronics and mechanics that utilize the latest technologies and manufacturing methods.
For the motors themselves only the use of high-performance rare earth magnets has made such ultra-high torque possible in such a compact format.
So what about vibrations and temperature? As for the other integrated servo motors in the range (50-4500W), both the motor and all electronic components have been specifically selected to withstand the rigorous demands required by industrial use.
Power Supply and Energy Savings
Powering this motor is easy since it only requires connection of the main voltage of 1x230 VAC directly at the motor. Control voltage for the encoder and microprocessor circuitry is 24 VDC: In an emergency-stop situation, where an approved relay has cut-off the main power, encoder position and other values are maintained by this control voltage. Alternatively of course you can choose the absolute multiturn encoder instead, which does not need supply or even a backup-battery.
Furthermore highly effective switching technology is used to ensure low heat generation resulting in appreciable energy savings.
One of the big advantages of using the integrated MAC motor®s is that you don't need to install a separate servo driver or controller in a control cabinet. This gives you many subsequent advantages: Space savings in your control cabinet, saving of expensive motor and encoder cables, saving time (and money) for cabling, electric noise is minimized due to internal cabling and also installation errors between driver and motor are eliminated.
In addition, service is much easier, since the motor and controller can be replaced as a single integrated unit. Hence downtime is minimized and production is maximized.

If you use industrial Ethernet then functionality and handling is similar for all supported protocols: Profinet, EtherNet/IP, SERCOS, EtherCAT, Powerlink and Modbus TCP/UDP.
Using JVL's universal software MacTalk® you can even change between the different Ethernet protocols just by making a firmware update—it is gratis and you can do it as many times as you like.
In stand-alone applications you will undoubtedly like our graphical programming environment. Writing embedded PLC programs (ePLC) for the servo series, MAC motor®, and for the stepper series, ServoStep® and QuickStep®, is very easy and can be done even by end-users. You don't have to be an experienced PLC programmer to make ePLC programs: the icon-based graphical programming environment does the job for you. Just click on the command icon you want and the program line is created for you.
No matter the number of I/O points in the actual motor, each digital input and output and analog input can be used in the program: you can query single or multiple input conditions and branch accordingly to other parts of your program. Motion commands are available with different kinds of relative or absolute movements. Jumps and IF commands, timers and other functions are also available as well as register calculations. All registers and parameters in the motor can be accessed and changed if required.
Connect a suitable HMI (color touch operator panel) and the operators can send values and parameters to the motor as well as monitor operations
For further details about the motor click
here
.
For further information, please contact:
JVL A/S, Bregnerødvej 127, 3460 Birkerød, Denmark.
Tel. +45 4582 4440. E-mail:
jvl@jvl.dk
. Web:
www.jvl.dk
About JVL
- JVL is a world leader within the development and production of efficient and compact integrated servo motors and integrated stepper motors. MAC motor® are a series of integrated brushless servo motors (up to 4500 W and 13.5 kW peak) and ServoStep® are a series of integrated stepper motors (up to 25 Nm). Both the servo motor and stepper motor series include motor, controller, ePLC, encoder and bus system integrated into one compact unit. All industrial Ethernet protocols like Profinet, EtherNet/IP, EtherCAT, Sercos III, ModbusTCP and Powerlink are available.
Options include: absolute multiturn encoders, STO (safe torque off, SIL3) and brakes.

JVL has more than 25 years of motion control experience and are well known for their development and production of highly specialized integrated motors with industrial Ethernet and customized improvements. The close co-operation with customers and representatives result in cost-effective and technical optimized solutions for both basic and advanced motion control applications.


JVL's wide selection of quality products for motion control applications include: Integrated brushless Servo motors, Integrated Stepper motors, AC Servo motor controllers, Motor drivers (DC, AC and Steppers), Brakes, Gearboxes, Hollow Rotary Actuators and HMI touch panels.
Read more about linear stepper here.
Read more about integrated stepper here.
Link to product page
here
.