Electro-magnetic Power-Off Brake for all
NEMA 17 size Stepper and Servo Motors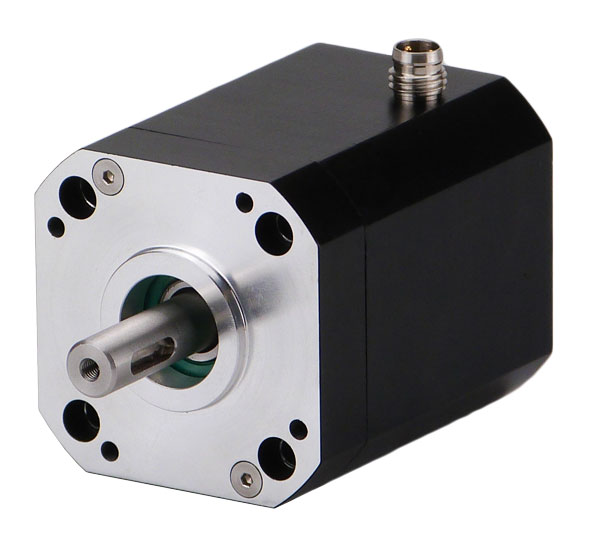 Birkerød, Denmark
- JVL A/S, one of the world leaders in the field of integrated servo- and stepper-motors introduce a new compact electro-magnetic brake with superior torque performance compared to other NEMA17 brakes on the market. The MAB17 brake is a totally new design based on years of experience and customer feedback.
The brake is used when it is desired to hold the motor shaft fixed at power-off, typically when the motor is used in a vertical linear application. When 24 VDC is connected, the brake is deactivated and the motor can turn freely.

The electro-magnetic brake is designed to be mounted on step- and servo-motors with NEMA17 flange 42x42mm. The brake can be mounted directly on any brand of stepper motor that follows the NEMA17 standard like JVL stepper motor MST17x but also JVL integrated stepper motors MIS171, MIS173 and MIS176. Output shaft and (hollow) Input shaft are available in 5, 6.35 or 8 mm but others can be produced to order.

A high quality 24 VDC electro-magnetic spring brake is mounted inside the housing. The brakes use shaft-hub-connection to the brake disc which allows for axial play ensuring that the motor bearings are not overloaded e.g. due to temperature changes.

0.5 Nm holding torque is standard but 0.6…0.7 Nm special selected brakes are available. High quality shaft collar ring with screw is used to tighten the brake onto the motor shaft.

Key features:
Very high torque holding brake 0.5 Nm
High quality spring brake which absorbs axial play in motor
IP65 option available for both shaft and housing
12VDc or other windings available
Low current consumption
5, 6.35 and 8 mm in- and output shaft standard
M8 connector standard. Free wire or cable also available on request
Stock available for instant delivery
Front mounted hollow shaft brake 6.35, 8 or 10 mm is also available for motors with double shaft or lead/ball screw.

All standard brakes are equipped with M8 4 pin male connector for 24 VDC control voltage.

For further details about the motor click
here
.
For further information, please contact:
JVL A/S, Bregnerødvej 127, 3460 Birkerød, Denmark.
Tel. +45 4582 4440. E-mail:
jvl@jvl.dk
. Web:
www.jvl.dk
About JVL
- JVL is a world leader within the development and production of efficient and compact integrated servo motors and integrated stepper motors. MAC motor® are a series of integrated brushless servo motors (up to 4500 W and 13.5 kW peak) and ServoStep® are a series of integrated stepper motors (up to 25 Nm). Both the servo motor and stepper motor series include motor, controller, ePLC, encoder and bus system integrated into one compact unit. All industrial Ethernet protocols like Profinet, EtherNet/IP, EtherCAT, Sercos III, ModbusTCP and Powerlink are available.
Options include: absolute multiturn encoders, STO (safe torque off, SIL3) and brakes.

JVL has more than 25 years of motion control experience and are well known for their development and production of highly specialized integrated motors with industrial Ethernet and customized improvements. The close co-operation with customers and representatives result in cost-effective and technical optimized solutions for both basic and advanced motion control applications.


JVL's wide selection of quality products for motion control applications include: Integrated brushless Servo motors, Integrated Stepper motors, AC Servo motor controllers, Motor drivers (DC, AC and Steppers), Brakes, Gearboxes, Hollow Rotary Actuators and HMI touch panels.
Read more about linear stepper here.
Read more about integrated stepper here.
Link to product page
here
.