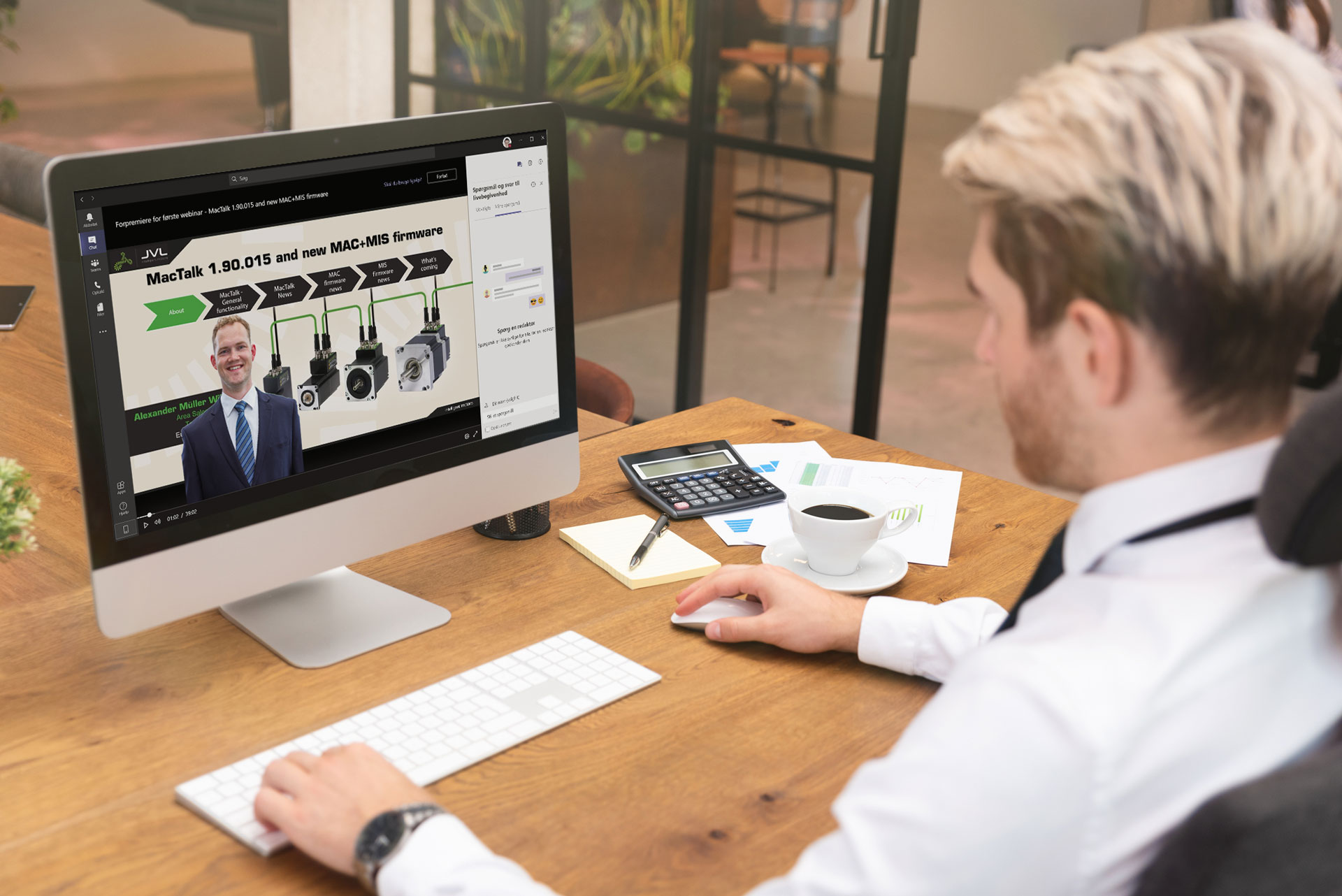 JVL has planned several webinars for the next months.
If you want to join one of these then check and sign-up here:

Webinars to come or already held:
Description

Date / Sign-up

Video


DMX512 for all JVL motors



xx. of xxxx 2021

-


General functions - All the cool stuff that makes JVL #1



xx. of xxxx 2021

-


CiA-402 for MIS and with CanExplorer


Our Development engineer Rune will demonstrate the new
CiA-402 support in our MIS motors, and go over a full setup
with our own test software CanExplorer.

30. of June 2021

Video


New Integrated Spindle Drives for format change and setup axis.


Why automat format change by exchanging handwheels with
spindle drives?
Introduction to standard MIS ServoStep Motors by Kenneth and Palle.
New spindle drive version targeted format change applications
- Features and benefits.
Add On instruction for Studio 5000 (Allen Bradley / Rockwell Automation).
Function Blocks for Tia Portal (Siemens).
Product codes
Q/A session

23. of June 2021

Video

World's Best Closed-Loop for Stepper Motors


Our sales engineer Palle and Alexander will explain all the benefits, and
special advantages of the JVL Closed Loop function for integrated
ServoStep™ motors, and why we are the top of the world!

16. of June 2021

Video

Easy Programming - with JVL ePLC


A guide tour through our integrated PLC - ePLC - Integrated in all our
integrated motors (MAC and MIS) and stand-alone controllers -
(SMC66 + SMC85) with Alexander.
I will guide you through the basics, and then I will go over the
tasks I normally use for the JVL trainings.

24. of February 2021

Video


MACmotor® tuning


A guided tour through the integration and tuning of a JVL MAC motor.
Peter will take you through all the adjustment possibilities,
and teach you all the basics which is needed for optimizing
your motor for your application.

27. of January 2021

Video


ServoStepTM (MIS) tuning


Today Alexander will show you how to tune a stepper motor.
We also use the scope to verify that the tuning is correct.
We also go through special closed loop parameters.

20. of January 2021

Video


New MacTalk and new MAC + MIS firmware


Walk-through MacTalk and presentation of the new MAC+MIS firmware.
Alexander take the time needed to give you a proper introduction to MacTalk.
9. of December 2020

Video

JVL also makes courses for different subjects if requested.