Connect multiple JVL Drives to an existing Ethernet based network ?
Save between 10-15% in the investment costs when integrating JVL drives by using IO-Link instead of an traditional Ethernet based control network.

In 90% of the applications where JVL drives are used, the specific axis is used as a setup axis, only requiring a minimal of bandwith and no hard timing requirement.

By using IO-Link and the new JVL IO-Link gateway a JVL drive (servo or stepper) can be controlled directly from the PLC through an IO-Link Master.

This Master usually connects directly to the PLC via the Ethernetbus.

Even though the IO-Link based JVL control never was intended to be used in hard timing restrained application, reaction times an be very low.

For the MIS motors an added bonus, up to 5 motors can be connected to one IO-Link channel by utilizing multidrop topology on an internal JVL bus, running between the motors.

All normal motion functions can be controlled through the IO-Link channel.

For the Rockwell environment AOI's are supported.

The JVL gateway is placed inside a rugged metal tube.

2 Leds indicates the current Link status.

The metal gateway screws directly into one of the IO-connectors on the motor and an IO-Link cable is connected to the other end, that goes directly into the IO-Link master.

The JVL Gateway is delivered with either 8, 12 or 17Pin connector depending on the type of JVL drive used.

For the MAC servo motor range an MAC00-B4 module is required for each motor. Observe that these drives requires one IO-Link channel per. Drive.

For the MIS Servo stepper series, the Gateway tube connects directly to the 17Pin connector.

1:1 Topology Rockwell example, One motor, one IO-Link channel: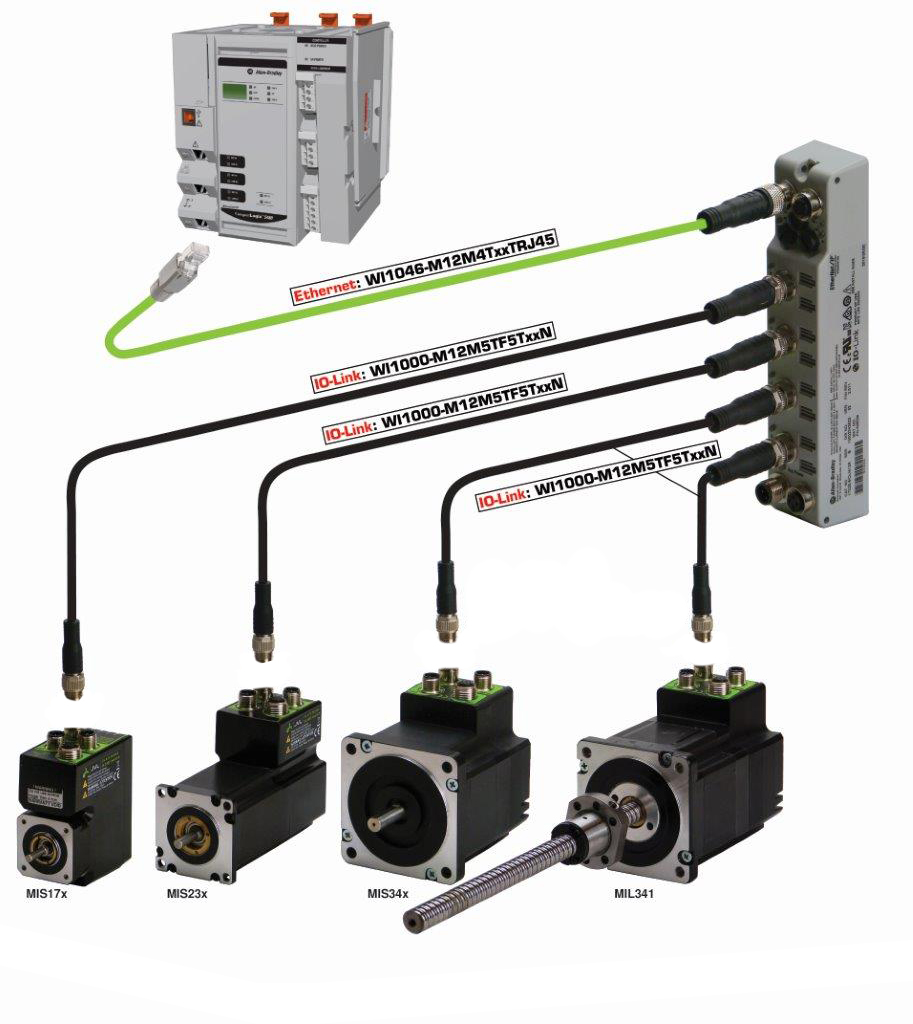 1:1 Point to Point IO-Link Parts numbers used:
Rockwell IO-Link master: Armorblock 1732E-8IOLM12R
JVL IO-Link gateway metal tube:
MAC module


IOLINK item number
MAC00-B4
8pin

WI1425M12M5TM8T501
MAC00-B41
12pin
WI1425M12M5TM12T201
MAC00-Ex41
17pin
WI1425M12M5TM17T201
MISxx_MILxx_SMC66/85
Point to point. Only xQ5x

17pin
WI1425M12M5TM17T201
MISxx_MILxx_SMC66/85 with 17pin connector with RS422
IO-Link cable 3 m: WI1000-M12M5TF5T03N

IO-Link cable 5 m: WI1000-M12M5TF5T05N

1:N Topology Rockwell example, 1-5 MIS motors per IO-Link Multidrop channel OBS! Only Q9 type MIS motors supported: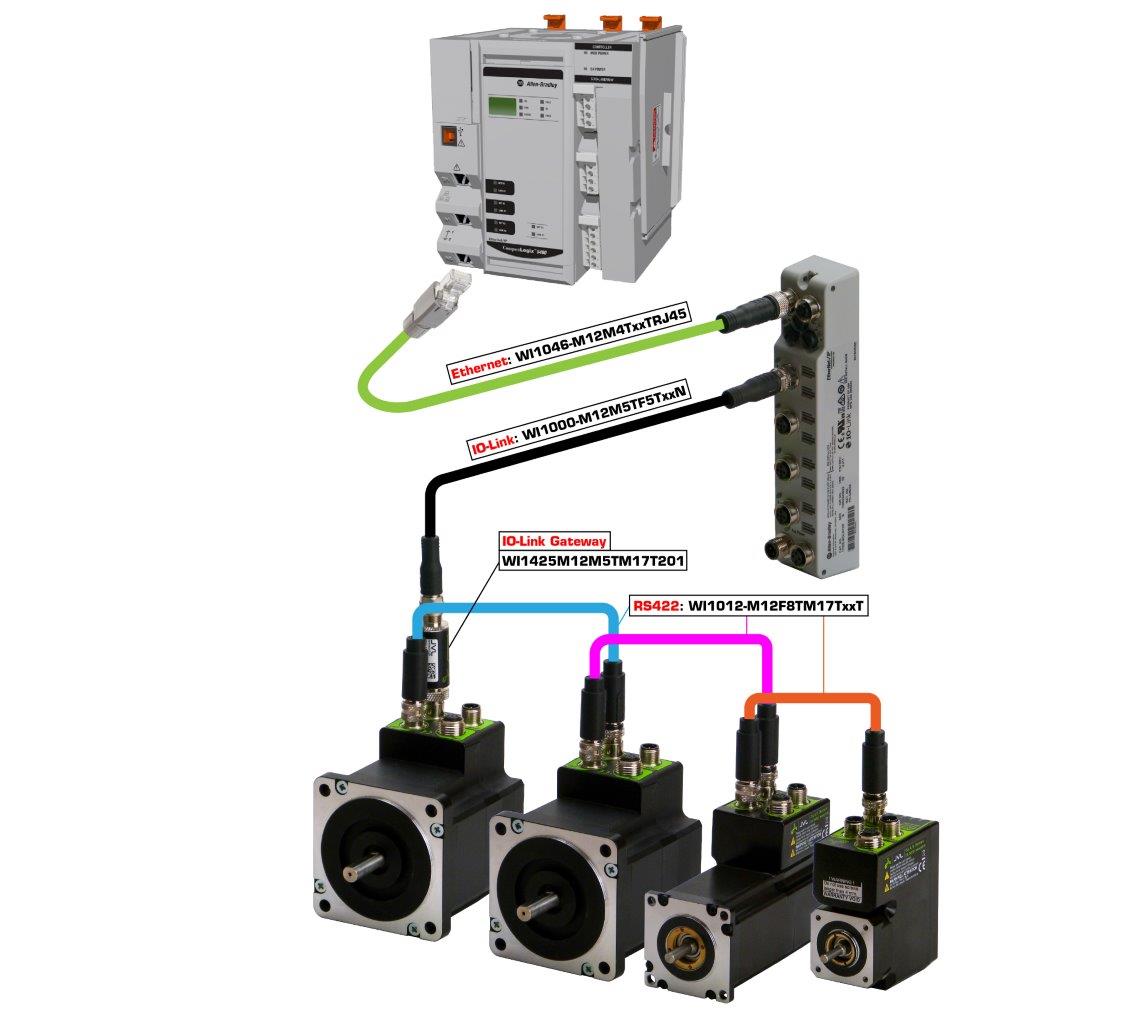 1:N multidrop IO-Link Parts numbers used:
Rockwell IO-Link master: Armorblock 1732E-8IOLM12R

JVL IO-Link gateway metal tube: WI1425M12M5TM17T201
MAC/MIS/MILxxx, with 17pin connector and 8pin connector running RS422
IO-Link cable 3 m: WI1000-M12M5TF5T03N

IO-Link cable 5 m: WI1000-M12M5TF5T05N
RS422 COM cable between motors(1-20 m):
1 m: WI1012-M12F8TM17T01T

5 m: WI1012-M12F8TM17T05T

MISxx_MILxx_SMC66/85
Multidrop Only Q9
17pin/8pin
WI1425M12M5TM17T201+WI1012xx cables