MotorSizer™ 4.0 - new motor calculation program from JVL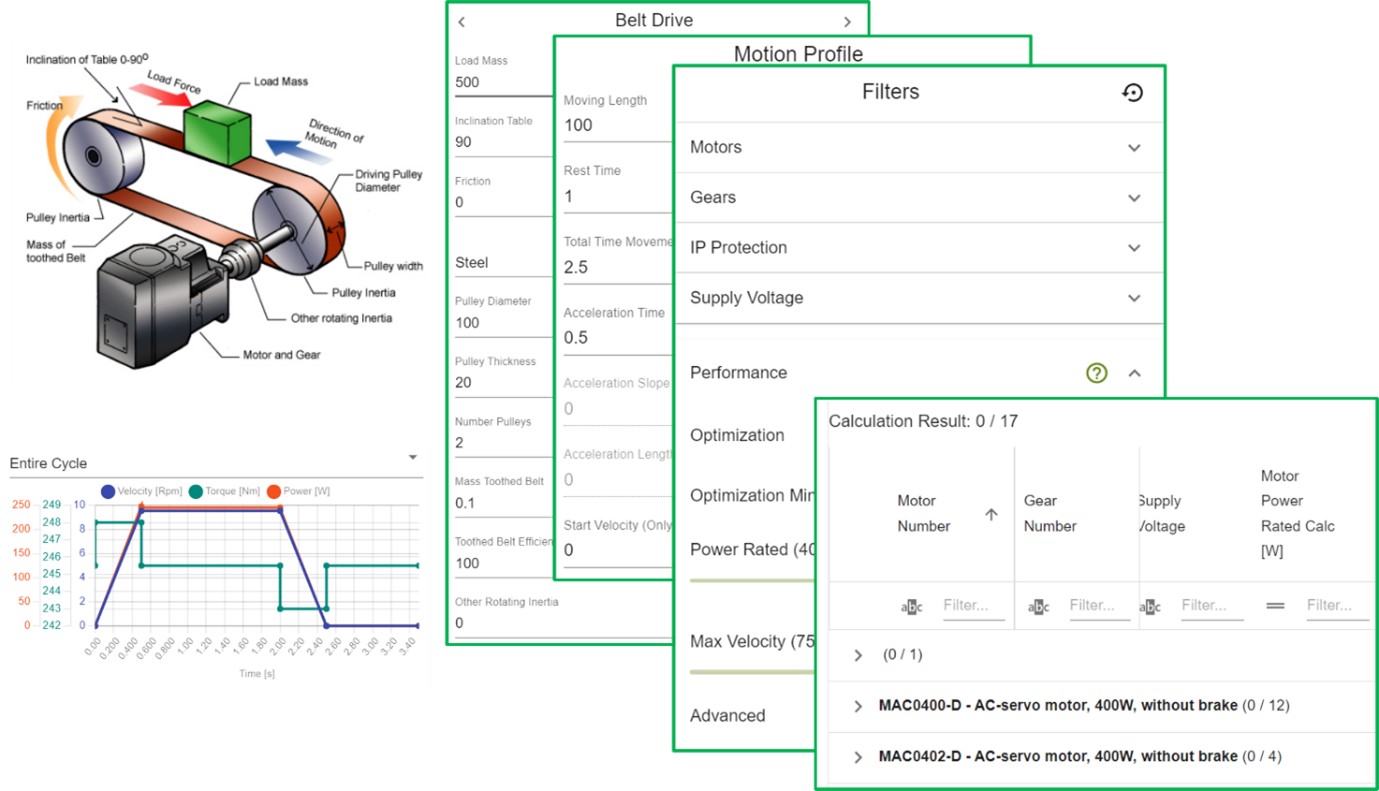 Birkerød, Denmark
- JVL presents a new sizing tool for JVL Stepper and AC-servo motors – MotorSizer™ 4.0. JVL, the European leader in the development of integrated servo and stepper motor technology, has now made a new and better version of the sizing tool MotorSizer for JVL Stepper and AC-Servo motors.
MotorSizer™ 4.0 is a web-based software freely available on the Internet 24 hours a day and is JVL's own WEB tool, which you can use to find the perfect match of JVL motor and gear for your application. The project and specific scenario are saved and others in the same company can look into the calculations and copies can be made to other.
It is also possible for JVL to look into the projects and help with the dimensioning if needed.

MotorSizer™ 4.0 differs from the previous version in many ways. Most important is that you can now describe your application and any requirements you may have like protocol, motor and gear type, IP degree, brake and STO.
MotorSizer™ 4.0 can then tell you which motor and gear combinations are offered and can be used for the application, and you can decide between the different options available.
MotorSizer™ 4.0 is very easy to use. A single screen picture is used for displaying all parameters. Once the known values have been keyed in, simply select CALCULATE to display the results of the configuration.
Features
The following parameters can be keyed-in for the application:

Distance - Acceleration - Time - Delay – Load - Mechanical information - Vertical/Horizontal movement

Can calculate with or without gearing on various applications: Spindle - Drive belt - Disc
Also ideal for educational purposes

For further information, please contact:
JVL A/S, Bregnerødvej 127, 3460 Birkerød, Denmark.
Tel. +45 4582 4440. E-mail:
jvl@jvl.dk
. Web:
www.jvl.dk
About JVL
- JVL is a world leader within the development and production of efficient and compact integrated servo motors and integrated stepper motors. MAC motor® are a series of integrated brushless servo motors (up to 4500 W and 13.5 kW peak) and ServoStep® are a series of integrated stepper motors (up to 25 Nm). Both the servo motor and stepper motor series include motor, controller, ePLC, encoder and bus system integrated into one compact unit. All industrial Ethernet protocols like Profinet, EtherNet/IP, EtherCAT, Sercos III, ModbusTCP and Powerlink are available.
Options include: absolute multiturn encoders, STO (safe torque off, SIL3) and brakes.

JVL has more than 25 years of motion control experience and are well known for their development and production of highly specialized integrated motors with industrial Ethernet and customized improvements. The close co-operation with customers and representatives result in cost-effective and technical optimized solutions for both basic and advanced motion control applications.


JVL's wide selection of quality products for motion control applications include: Integrated brushless Servo motors, Integrated Stepper motors, AC Servo motor controllers, Motor drivers (DC, AC and Steppers), Brakes, Gearboxes, Hollow Rotary Actuators and HMI touch panels.