Integrated Steppermotor with Wireless Industrial Ethernet
– Profinet, EtherNet/IP or ModbusTCP/UDP
– for all JVL's ServoStep™ motors

PRESS release:
September 2021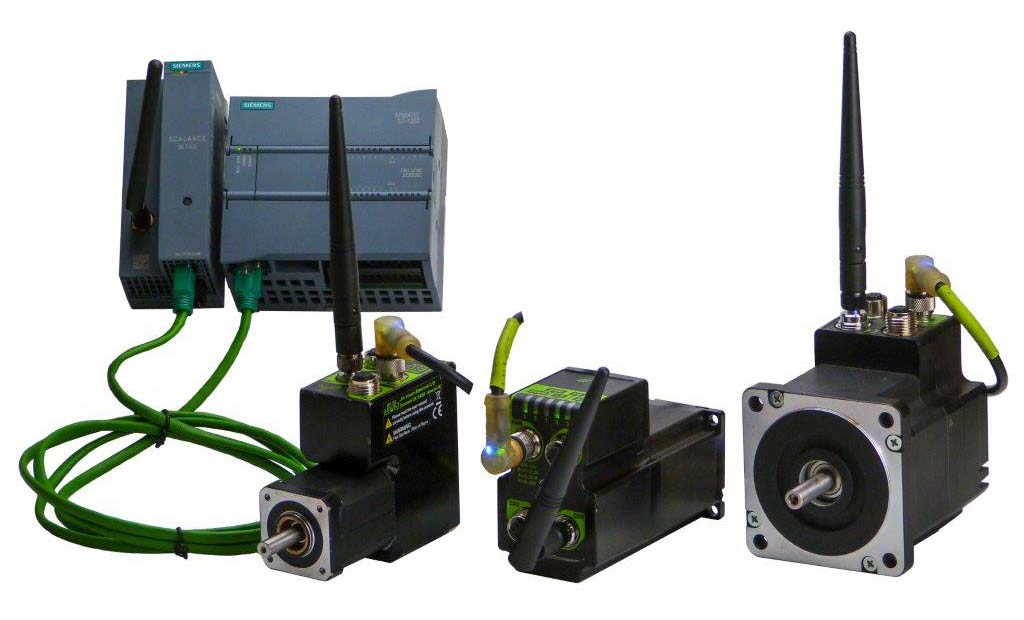 Birkerød, Denmark
- JVL A/S, one of the world's leading producers in the field of integrated servo and stepper motors, can now deliver wireless Ethernet communication for all integrated stepper motors in their ServoStep™ series, from 0.3 to 25 Nm, sizes NEMA 17 to 43. Antenna and wireless circuit are built into the motor and support industrial wireless Ethernet using Profinet, EtherNet/IP and ModbusTCP/UDP. They can be used in applications where wireless is a demand in e.g. battery powered vehicles or where the motor is rotating, and an Ethernet slipring is not a viable solution.
Available as option on all ServoStep™ motors type MIS and MIL in size NEMA17..43
Support wireless EtherNet/IP, Profinet and ModbusTCP/UDP
High security encryption WPA and WPA2 and SSID identification
Antenna connector and loop through to secondary wired Ethernet connector for multi-axis wired Ethernet network.
Support two different modes: Station Client and Access Point
Station Client mode is a point to point connection for high speed communication to several motors. Secondary wired Ethernet is not available
Access Point mode where secondary wired Ethernet connector can be used for a multi axis Ethernet network where one motor has antenna and all others are wired
Function blocks (FB) for Siemens PLCs and Add-On-Instruction (AOI) for Rockwell Allen Bradley ControlLogix PLCs with special wireless support are available for download.
2 LEDs built-in in the M12 antenna connector for status and error indication
Virtually unlimited number of axes on the network with Ethernet cables
Dual supply motors with M12 connectors
Built-in ePLC™ with 8 I/O-points (or AI 0…5 V) for extra functionality
For OEM's special functionality can be developed
Theatre and stage lighting where motors are located in the ceiling
AGVs and shuttles
Motors that rotates and use expensive Ethernet slip-rings
Other battery supplied applications
Tablet or Mobile phone control are required
MacTalk® support
Communications diagnostics
Advanced MacTalk® setup and commissioning
Mode Setting
SSID, encryption and credentials
Signal strength in dBm or %
Station Client is used when the PLC uses internal or external Access point and multiple motors can be controlled through a wireless communication. Because each motor has its own address and wireless channel should be open and closed each time a motor should receive a message the update rate is slow compared to Access Point mode. Station Client mode is typically used if one or a few motors should be controlled wireless. Each motor should have its own antenna. When the motor is configured as Station Client, the secondary Ethernet port on the motor is not available.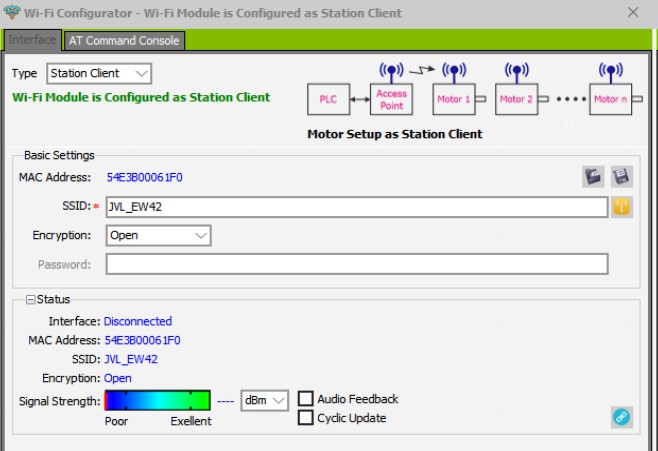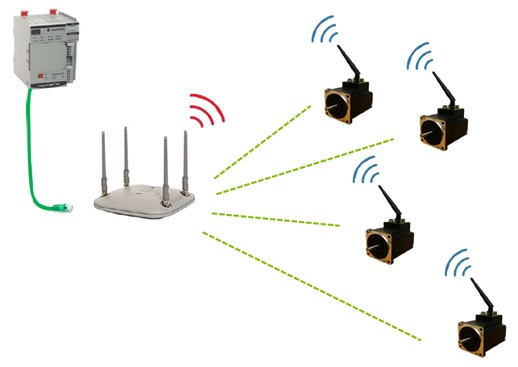 The Access Point connected to the PLC works as an access point and the motors connects to this access point as clients.

Each wireless motor is configured as an access point and the PLC is connected to a wireless client. This method leaves the secondary Ethernet port in the motor open for connecting another wired node and the internal switch in the motor will route the packages through the wireless network to and from the PLC to the nodes connected to the port.
The drawback of this setup is that it gets very complicated requiring a lot of bandwidth if many wireless "strings" are needed. The PLC and each Client should be connected to an industrial grade managed switch.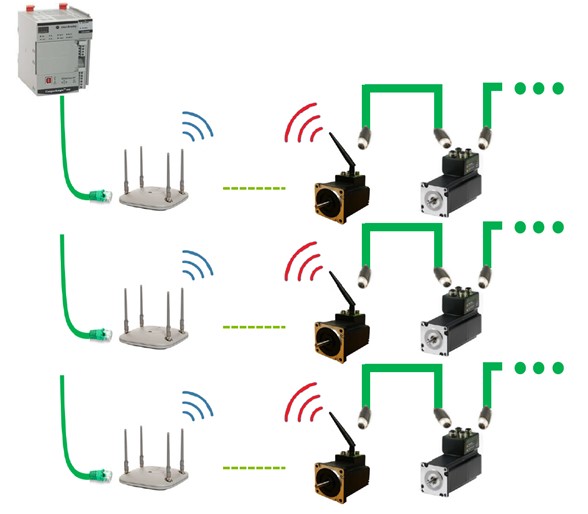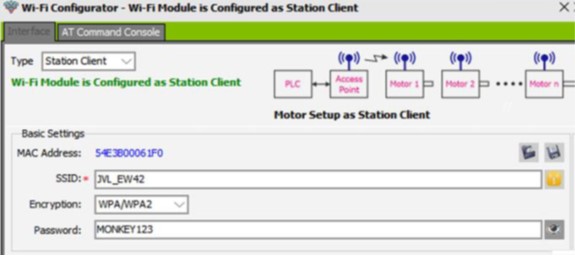 ServoStep™ has everything built-in including motor, encoder, drive electronics, control electronics with ePLC™ and optional Ethernet or CAN bus integrated into one compact unit. All major industrial Ethernet protocols like Profinet, EtherNet/IP, EtherCAT, SERCOS, ModbusTCP/UDP and Powerlink are available.
Options include: absolute multiturn encoders and STO (safe torque off, SIL3).
Also included are 8 I/O points which can be individually configured as digital input or output – or analogue input. The IOs can be used as local/remote IOs for the central PLC – or used together with the ePLC™ in stand-alone applications.

For further information, please contact:
JVL A/S, Bregnerødvej 127, 3460 Birkerød, Denmark.
Tel. +45 4582 4440. E-mail:
jvl@jvl.dk
. Web:
www.jvl.dk
About JVL
- JVL is a world leader within the development and production of efficient and compact integrated servo motors and integrated stepper motors. MAC motor® are a series of integrated brushless servo motors (up to 4500 W RMS and 13.5 kW peak) and ServoStep™ are a series of integrated stepper motors (up to 25 Nm). Both the servo motor and stepper motor series include motor, controller, ePLC™, encoder and bus system integrated into one compact unit. All industrial Ethernet protocols like Profinet, EtherNet/IP, EtherCAT, Sercos III, ModbusTCP and Powerlink are available.
Options include: absolute multiturn encoders, STO (safe torque off, SIL3) and brakes.

JVL has more than 30 years of motion control experience and are well known for their development and production of highly specialized integrated motors with industrial Ethernet and customized improvements. The close co-operation with customers and representatives results in cost-effective and technically optimized solutions for both basic and advanced motion control applications.


JVL's wide selection of quality products for motion control applications include: Integrated brushless Servo motors, Integrated Stepper motors, AC Servo motor controllers, Motor drivers (DC, AC and Steppers), Brakes, Gearboxes, Hollow Rotary Actuators and HMI touch panels.