Birkerød, Denmark
- JVL A/S, one of the world's leading producers in the field of integrated servo and stepper motors, is proud to announce a completely new generation of Mini-MAC 140 W servo motor. This new motor is based on previous designs and customer feedback collected for many years and offers a wide pallet of options and possibilities which makes this product fit into almost any application.
New Compact Motor
The well-known MAC140-A is now coming in a new version with new features and better performance already know in motors like MAC400-4500 and also with an option for absolute multiturn encoder without the use of battery. There will also be an option for control of external brake and for Safe Torque Off (STO).
It has a torque of 0.32Nm RMS and 0.9Nm peak and runs at speed from 0 to 4000rpm (134W).
New MosFet technology and more advanced FOC control filters have made the motors more efficient and with less noise.
Graphical Programming and Ethernet
This motor can be programmed internally using MacTalk and the icon-based ePLC programming tool for simple and rather complex applications. It can be used for stand-alone applications and also in combination with Ethernet based applications.
If you use industrial Ethernet then functionality and handling is similar for all supported protocols: Profinet, EtherNet/IP, SERCOS, EtherCAT, Powerlink and ModbusTCP/UDP.
Using JVL's universal software MacTalk® you can even change between the different Ethernet protocols just by making a firmware update—it is free and you can do it as many times as you like.
High dynamic servo regulator
Industrial Ethernet - 6 protocols
Absolute multiturn encoder unlimited down time (no battery!)
Safe Torque Off (STO) input
Wide supply range 12 to 48 VDC
Supply range Min-Max: 8-58 VDC

Very energy efficient
Brake control (ext. brake)
0 – 4000 RPM / 140 W (MAC140)

0-2700 RPM / 140 W (MAC141)

Protection class up to IP67
Wide program of option modules
Connectors: M12 industrial
Absolute multiturn encoder harvesting technology without battery or gear
Ethernet high performance similar to other MAC motors
New Mosfet technology for higher efficiency and cooler motor
Encoder resolution 8196 CPR. Higher resolutions soon to come
STO or Brake connector optional
More advanced FOC filter for lower noise and better motor performance
Also available as an IP67 version (IP69k approval pending)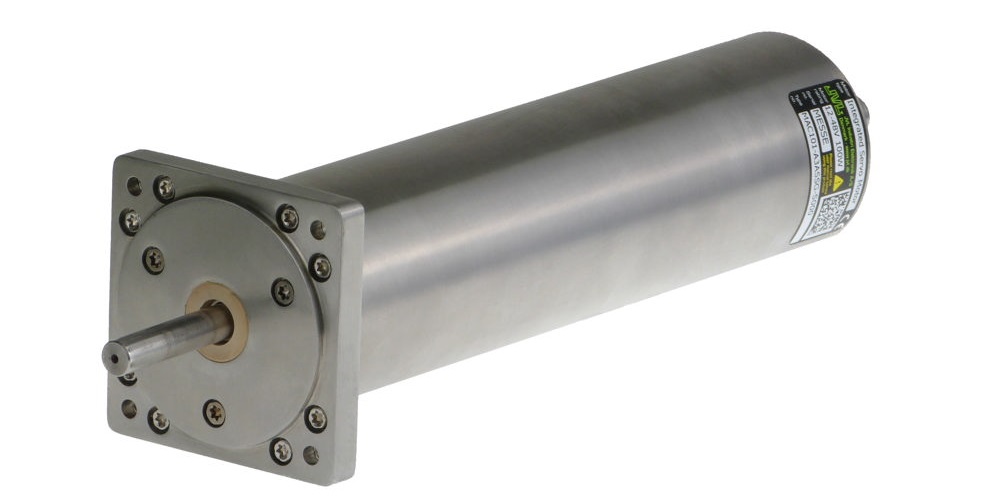 100% stainless steel shaft, flange, tube and rear end cover.
Speciel teflon sealing for long lasting watertight operation.
Cost effective in harsh wet corosive enviroment
Shaft seal and leak-proof cable glands entry provide watertight sealing in both ends.
Ideal for food processing, liquid, pharmaceutical, wash down, chemical industries, bakery and bevarage machinery etc.
Option for built-in planetary gear.
Option for built-in PLC, RS232/485, Profibus, CANbus or industrial Ethernet
(EtherCAT, EtherNet/IP, Profinet, Modbus TCP, Sercos III and more)
Read more about the 3rd generation MAC14x motors:
Product page
JVL A/S, Bregnerødvej 127, 3460 Birkerød, Denmark.
Tel. +45 4582 4440. E-mail:
jvl@jvl.dk
. Web:
www.jvl.dk
About JVL
- JVL is a world leader within the development and production of efficient and compact integrated servo motors and integrated stepper motors. MAC motor® are a series of integrated brushless servo motors (up to 4500 W and 13.5 kW peak) and ServoStep® are a series of integrated stepper motors (up to 25 Nm). Both the servo motor and stepper motor series include motor, controller, ePLC, encoder and bus system integrated into one compact unit. All industrial Ethernet protocols like Profinet, EtherNet/IP, EtherCAT, Sercos III, ModbusTCP and Powerlink are available.
Options include: absolute multiturn encoders, STO (safe torque off, SIL3) and brakes.

JVL has more than 25 years of motion control experience and are well known for their development and production of highly specialized integrated motors with industrial Ethernet and customized improvements. The close co-operation with customers and representatives result in cost-effective and technical optimized solutions for both basic and advanced motion control applications.


JVL's wide selection of quality products for motion control applications include: Integrated brushless Servo motors, Integrated Stepper motors, AC Servo motor controllers, Motor drivers (DC, AC and Steppers), Brakes, Gearboxes, Hollow Rotary Actuators and HMI touch panels.