Connect multiple JVL motors through low cost RS422 motors to an existing IOlink, CANopen, Wireless ethernet, Ethernet, DMX512 motor
.
Topology One link , One motor for fast response on all motors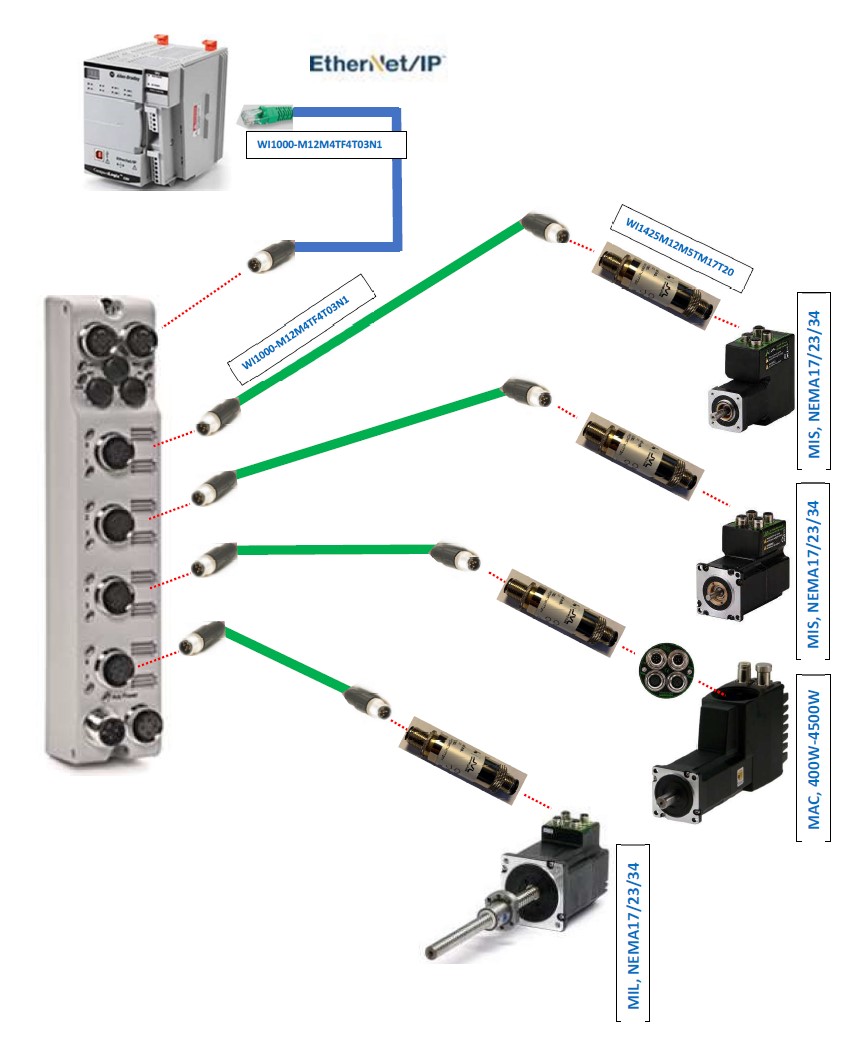 Features:

Connect multiple JVL motors through low cost RS422 motors to an existing IOlink, CANopen , Wireless ethernet, Ethernet, DMX512 motor
All motor can have MACtalk communication together with MODBUS or CAN communication
Control multiple motors in daisy chain RS422 network
Connect multiple JVL motors to an existing Ethernet based network ?
Save between 10-15% in the investment costs when integrating JVL drives by using IOLink instead of an traditional Ethernet based control network.
In 90% of the applications where JVL drives are used, the specific axis is used as a setup axis, only requiring a minimal of bandwith and no hard timing requirement
For the Rockwell environment AOI's are supported.
Features CAN:

CAN motor have MACtalk +MODBUS + CAN communication at the same time
Control motor point to point
1Mbit
Features IOLINK module WI1425x:
By using IO-Link and the new JVL IO-Link gateway a JVL drive (servo or stepper) can be controlled directly from the PLC through an IO-Link Master.
IOLINK demand gateway module with IOlink M12 5Pin in and 17pin out that connect to stepper or servomotor.
Motor 1 should have a WI1425 module connected but additional motor can be low cost RS422 MIS*Q9* motors
Connect multiple motor through a RS422 On same motor connect M12 8pin to motor 2 M12 17pin etc.
IOLink compatible with Rockwell Armorblock 1732E-8IOLM12R, Siemens and others
Max 1 Mbit RS422 for only MODBUS and IOLINK motor network.
Even though the IO-Link based JVL control never was intended to be used in hard timing restrained application, reaction times an be very low.
The JVL gateway is placed inside a rugged metal tube. 2 Leds indicates the current Link status.
The metal gateway screws directly into one of the IO-connectors on the motor and an
IO-Link cable is connected to the other end, that goes directly into the IO-Link master.
The JVL Gateway is delivered with either 8, 12 or 17Pin connector depending on the
type of JVL drive used.
For the MIS motors an added bonus, up to 5 motors can be connected to one IO-Link channel by utilizing multidrop topology on an internal JVL bus, running between the motors.
For the MAC servo motor range an MAC00-B4 module is required for each motor. Observe that these drives requires one IO-Link channel per. Drive.
All normal motion functions can be controlled through the IO-Link channel.
For the MIS Servo stepper series, the Gateway tube connects directly to the 17Pin connector.
Feature Wireless Ethernet:
Wireless ethernet is build into motor so only antenna is outside. Use the motor internal switch to connect to multiple other Ethernet motor
MODBUS motor ie 17 pin RS422 MODBUS input and 8 pin MODBUS output to multiple other RS422 motors.
Use Master with 4-8 channels for point to point to each motor for fastest response. Use daizy chain connection for non timecritical application (The more motors the slower it gets).
Max 460Mbit RS422 MODBUS for motor with Ethernet
This Master usually connects directly to the PLC via the Ethernetbus.


CANOpen


IOLINK



Ethernet Wired

Wireless Ethernet


DMX512



J1939

Master slave
MODBUS


Slave follow MODBUS






















Hardware Physical layer



CAN RS485

IOLink 24V seriel
WI1425M12M5TM17T201

Ethernet

Wifi+Profinet/EthernetIP
ModbusTCP/UDP

RS485 or
RS422

CAN
RS485

RS422
duplex

RS422
duplex

JVL MACmotor module

MAC00-FC41

MAC00-Ex41: WI1425M12M5TM17T201
MAC00-B41: WI1425M12M5TM12T201
MAC00-B4 : WI1425M12M5TM8T501

-

MAC00-WI ( EthernetIP)
MAC00-WP (Profinet)
MAC00-WM ( MODBUS TCP/UDP)

MAC00-FS4

n/a

MAC00-B4
MAC00-B41
MAC00-Ex4



JVL motor MIS/SMC66/85

MIS/SMC*P6*

WI1425M12M5TM17T201+
MIS/SMC*Q5/Q9

MIS/SMC*
E2 Ethercat+MOSBUS
E3: Ethernet/IP+MODBUS
E4:Powerlink+RS422
E5: Modbus TCP+MODBUS
E6: Profinet+SSI

MIS/SMC
WI ( EthernetIP)
WP(Profinet)
WM ( MODBUS TCP/UDP)


MIS/SMC
*Q5/Q9

MIS/SMC
*P6*

MIS/SMC
*Q5/Q9

MIS/SMC
*Q5/Q9

AIO support



PDO Max5 motors with multidrop














Max number of nodes. Address range

255

255



65535

512







Syncronization

Yes

No













Cyclic Sync cycletimes

















Minimum cycle time







1mS for 5 Reg









Drive profile

CiA402





Planned Profidrive

No







Daicychain

Yes 5pin M 5p Female

Yes



Yes Wireless ethernet in.
Ethernet or MODBUS out









Communications speed



460 kbit





9.6 to
921kbit







Reaction time

















Read & write IO+reg in motor

Yes

Yes





Yes

Yes

Yes

Yes

JVL AOI



Yes Rockwell













JVL Function Block







Yes Siemens Profinet









JVL Example

Yes Beckhoff















Motor suppported

MIS*Q5*/*Q9*















Protocol supported

















User organization

Link

Link





Link

Link

Link

Link