JVL can now deliver a DMX512 protocol on RS485/RS422 interface for all

MIS motor

from 0.1 to 22 Nm NEMA17 to NEMA43. DMX512 are mostly used for applications in stage lighting, special effects and theatre but can also fast and efficiently control up to 512 motors from the same DMX master.

Features:

Low cost multi axis operation up to 512 axes
9.6 - 921 kBaud communication
Fast and efficiently control up to 512 motors from the same DMX master.
Select DMX512 on MacTalk RS485 connector or RS422 connector
Advanced motion task can be triggered from DMX512 command.
Dual supply motors . M12 connectors
Build in PLC with 8 IOA 24V
Communication diagnostics available in MacTalk
Jogging using digital input
Expanded functionality available
For OEM's can special functions be developed
Standard on all MIS motor with RS485 or RS422









Each DMX master universe has 512 channels available.
3 channels are used for position and command.
2 channels are used for acceleration and velocity.
Multiple combinations of motors and channels are possible.

If all motors are running in parallel, they can be configured to the same channels. Then it is only a physical limit to the number of motors you can connect to one universe.

If each motor needs its own position and command, they can share the acceleration and velocity channels, and have individual position and command channels.
170 motors can be enabled on the same universe.

If each motor needs individual velocity, acceleration, position, and command they each need 5 channels each and 102 motors can be enabled on the same universe.

There is a lot of combination possible with the DMX 512 bus. With clever planning it is possible to control a lot of motors from the same master.

Each channel consists of 10bit data and with a bus speed of 250kbit/second there is a theoretical update frequency of 48,8 times a second equal to complete universe update every 20,48ms.

Application:
Theatre and stage lighting control for focus, color, intensity
Low cost control of water flow valves
Pan and tilt of lighting fixtures
Trigger advances motion profiles by simple DMX512 input
Low cost high speed multiaxis control for any motion control application
DMX512 setup window in MacTalk :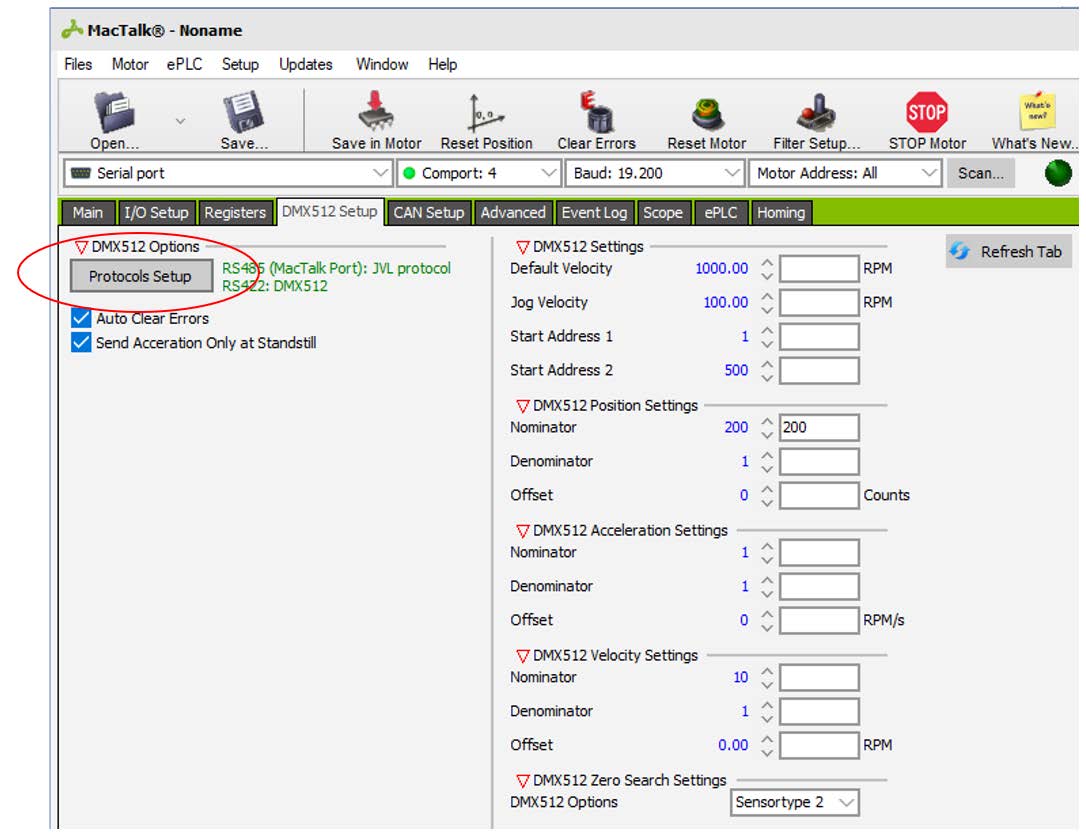 High speed RS485 or RS422 interface module for up to 512 multi axis applications. 8I/OA are available for local home sensor or limit input and thereby avoid long cables to PLC. Local IO can be accessed via DMX512 command. With its 1Mbit it is possible to send new position data to 512 axes in just xxx ms and thereby save valuable machine set-up time.
DMX512 has proved it´s worth in several stage and art projects with more than 200 axes.


DMX512 (Digital Multiplex) is a standard for digital communication networks that are commonly used to control stage lighting and effects. It was originally intended as a standardized method for controlling light dimmers, which, prior to DMX512, had employed various incompatible proprietary protocols. It soon became the primary method for linking controllers (such as a lighting console) to dimmers and special effects devices such as fog machines and intelligent lights. DMX has also expanded to uses in non-theatrical interior and architectural lighting, at scales ranging from strings of Christmas lights to electronic billboards. DMX can now be used to control almost anything, reflecting its popularity in theatres and venues.

DMX512 employs EIA-485 differential signaling at its physical layer, in conjunction with a variable-size, packet-based communication protocol. It is unidirectional.

DMX512 does not include automatic error checking and correction, and so is not an appropriate control for hazardous applications, such as pyrotechnics or movement of theatrical rigging. False triggering may be caused by electromagnetic interference, static electricity discharges, improper cable termination, excessively long cables, or poor quality cables.

| | |
| --- | --- |
| | |
| MIS*Q5* | Equipped with M12 8pin female and M12 5 pin female for RS485. Use standard WI1005 cables for RS485 daisy chain connection and terminator resistor at last motor. |
| MIS*Q9* | Equipped with M12 8pin MALE RS422/SSI and M12 5pin female RS485. Use standard WI10xx cables for RS422 daisy chain connection with full duplex. |
| | |
| | |
Accessories for MIS*Q5*:

Item number

Description

Length [m]





WI1008-M12F8SC1

M12 Con 8 p Fem 0° Screw Ø4-8mm cable assembly
0

WI1008-M12F8SS1

M12 Con 8 p Fem 0° Solder assembly
0
WI1008-M12F8TC1

M12 Con 8 p Fem 0° Screw Shield assembly

0

WI1008-M12F8TS1

M12 Con 8 p Fem 0° Solder Shield assembly

0



WI1011-M12F8V10T

M12 Shl Cable 10m 8 p Female 90° 4P twisted

10

WI1012-M12F8TF8T01T

M12 Shl Cable 1m 8pF0°-8pF0° SMC-Enc twisted/shield

1
WI1012-M12F8TF8T02T

M12 Shl Cable 2m 8pF0°-8pF0° SMC-Enc twisted/shield

2
WI1012-M12F8TF8T05T

M12 Shl Cable 5m 8pF0°-8pF0° SMC-Enc twisted/shield

5
WI1012-M12F8TF8T20T

M12 Shl Cable 20m 8pF0°-8pF0° SMC-Enc twisted/shield

20
WI1012-M12F8TM17T01T

M12 Shl Cable 1m 8pF 0° to 17pM 0° SMCxx twisted/shield

1
WI1012-M12F8TM17T05T

M12 Shl Cable 5m 8pF 0° to 17pM 0° SMCxx twisted/shield

5
WI1012-M12F8TM17T20T

M12 Shl Cable 20m 8pF 0° to 17pM 0° SMCxx twisted shield

20
WI1025-M12F8AM8A

M12 Cabinet Feed-through F8p-M8p

0


WI1008-M12M17SR1

M12 Con 17 p Male 0° Metal housing 5,4-8.2mm cable

0
WI1009-M12M17T01N

M12 Shl Cable 1m 17p Mal 0° MIS34x,Ex41 twisted

1
WI1009-M12M17T05N

M12 Shl Cable 5m 17p Mal 0° MIS34x,Ex41 twisted

5
WI1009-M12M17T10N

M12 Shl Cable 10m 17p Mal 0° MIS34x,Ex41 twisted

10
WI1009-M12M17T20N

M12 Shl Cable 20m 17p Mal 0° MIS34x,Ex41 twisted

20
WI1009-M12M17TF17T.5

M12 Shl Cable.5m Male17p0°-Female 17p0° twist pair

0.5
WI1009-M12M17TF17T01

M12 Shl Cable 1m Male17p0°-Female 17p0° twist pair

1

WI1009-M12M17TF17T02

M12 Shl Cable 2m Male17p0°-Female 17p0° twist pair

2
WI1009-M12M17TF17T03

M12 Shl Cable 3m Male17p0°-Female 17p0° twist pair

3
WI1009-M12M17TF17T04

M12 Shl Cable 4m Male17p0°-Female 17p0° twist pair

4
WI1009-M12M17V05N

M12 Shl Cable 5m 17p Mal 90° MIS34x,Ex41 twisted

5
WI1009-M12M17V10N

M12 Shl Cable 10m 17p Mal 90° MIS34x,Ex41 twisted

10
| | | | | |
| --- | --- | --- | --- | --- |
| DETAILED | | | | DOWNLOAD |