MacTalk® - One Software for All Motors
PRESS release:
September 2019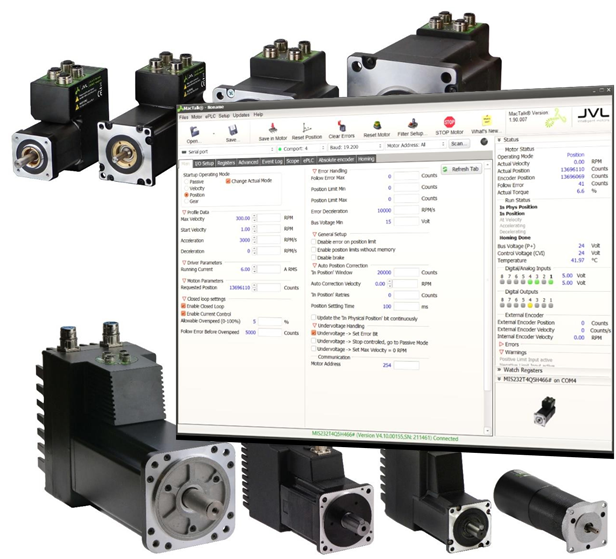 Birkerød, Denmark
- JVL A/S, one of the world's leading producers in the field of integrated servo and stepper motors, has performed a major update of their universal motor software, MacTalk®
MacTalk® is the universal software from JVL for all integrated motor series: MAC motor®, ServoStep® and QuickStep®.
MacTalk® is used for setup, monitoring and diagnostics in real time - and for ePLC program
development, where the PLC program is embedded and runs locally in the motor.
Although advanced functionality is included, all operations are very intuitive and easy to use. MacTalk® allows you to adjust all vital parameters and save them in a file or load them from a
file, including any ePLC program.
When commissioning a system MacTalk® even provides a convenient way to test and adjust your system. You can easily set up a test sequence and then adjust parameters like velocity, acceleration and torque. It is possible to select the distance moved and the delay between the
moves. Also more advanced parameters are easily adjusted. For MAC motor®s the servo loop is controlled by an advanced 6th-order filter, instead of a simple PID loop, but setup is easy to do with the graphic pop-up-window.
If you use industrial Ethernet setup and monitoring is also easy. Functionality and handling is similar for all supported protocols: Profinet, EtherNet/IP, Sercos, Powerlink, EtherCAT and Modbus TCP/UDP.
You can even change between the different Ethernet protocols just by making a firmware update—it is gratis and you can do it as many times as you like.
Another nice feature is the update function: when your PC is connected to the internet you can update the MacTalk® software itself – and even the motor system's firmware can be updated. Once bought, MacTalk® will stay "fresh" – always including the latest functionality.

Writing ePLC programs for the servo series, MAC motor®, and for the stepper series, ServoStep® and QuickStep®, is very easy and can be done even by end-users. You don't have to be an experienced PLC programmer to make ePLC programs: the icon-based graphical programming environment does the job for you. Just click on the command icon you want and the program line is created for you.
No matter the number of I/O points in the actual motor, each digital input and output and analog input can be used in the program: you can query single or multiple input conditions and branch accordingly to other parts of your program. Motion commands are available with
different kinds of relative or absolute movements. Jumps and IF commands, timers and other functions are also available as well as register calculations. All registers and parameters in the
motor can be accessed and changed if required.
The scope function in MacTalk® enables you to take a snapshot of selected values over a certain time frame. This is useful when commissioning a motor and also afterwards if you want to track an event, since the scope has access to all register values in the motor. You can choose between many trigger event types and setup the sample time etc. After an oscilloscope shot has been recorded it can be saved to local or network storage locations either as native file or as an excel file for further analysis.
On-the-fly scaling is also available for newer motor types. MacTalk® helps you to set up the scaling of chosen registers and the motor will convert values on-the-fly between motor internal
values and those your PLC or HMI prefers.
The new Event Log tab shows the total operating time for the connected motor as well as the last 20 warning or error events: very useful for catching periodic or re-occuring error events.

For further information, please contact:
JVL A/S, Bregnerødvej 127, 3460 Birkerød, Denmark.
Tel. +45 4582 4440. E-mail:
jvl@jvl.dk
. Web:
www.jvl.dk
About JVL
- JVL is a world leader within the development and production of efficient and compact integrated servo motors and integrated stepper motors. MAC motor® are a series of integrated brushless servo motors (up to 4500 W and 13.5 kW peak) and ServoStep® are a series of integrated stepper motors (up to 25 Nm). Both the servo motor and stepper motor series include motor, controller, ePLC, encoder and bus system integrated into one compact unit. All industrial Ethernet protocols like Profinet, EtherNet/IP, EtherCAT, Sercos III, ModbusTCP and Powerlink are available.
Options include: absolute multiturn encoders, STO (safe torque off, SIL3) and brakes.

JVL has more than 25 years of motion control experience and are well known for their development and production of highly specialized integrated motors with industrial Ethernet and customized improvements. The close co-operation with customers and representatives result in cost-effective and technical optimized solutions for both basic and advanced motion control applications.


JVL's wide selection of quality products for motion control applications include: Integrated brushless Servo motors, Integrated Stepper motors, AC Servo motor controllers, Motor drivers (DC, AC and Steppers), Brakes, Gearboxes, Hollow Rotary Actuators and HMI touch panels.
Link to product page
here
.