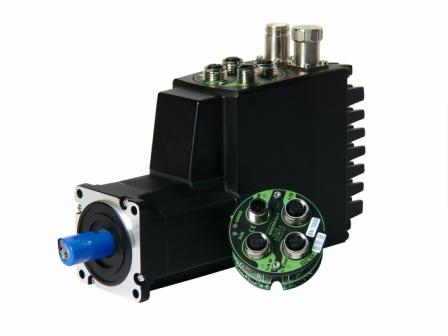 JVL is one of the leading companies in the field of integrated servo and stepper motors. For their medium power and new high power MAC motor's, i.e. from 400 W to 3000 W, yet another expansion module has been added: The EtherCAT control module.
Beginning with BlueTooth and WLAN, JVL decided that established communication protocols in their expansion modules must be provided from well-known companies. This way, JVL can concentrate their efforts into the key area of developing leading integrated servo and stepper technology.
In the case of EtherCAT, the netX 50 series communication processor from Hilscher has been selected. One of the big advantages of this choice is that the expansion module hardware is the same no matter which Ethernet protocol is implemented thus minimizing the development time of e.g. EtherNet/IP, Profinet, Modbus TCP, Powerlink or Sercos III. Even future Ethernet protocols are supported as Hilscher develops drivers for them.
EtherCAT, or Ethernet for Control Automation Technology, was originally developed by Beckhoff, but is now an open standard under EtherCAT Technology Group (ETG), which consist of key user companies from various industries and leading automation suppliers and it's purpose is to further develop and promote the EtherCAT technology. EtherCAT is the fastest growing industrial Ethernet-bus and is leading in Europe. Since it is based on an open protocol, cheap hardware (see below) and so far has an unmatched performance it is likely to become the world leader within industrial Ethernet-busses.
The EtherCAT technology overcomes the system limitations of other Ethernet solutions: The Ethernet packet is no longer received, then interpreted and copied as process data at every connection. Instead, the Ethernet frame is processed on the fly: the newly developed FMMU (fieldbus memory management unit) in each slave node reads the data addressed to it, while the telegram is forwarded to the next device. Similarly, input data is inserted while the telegram passes through. The telegrams are only delayed by a few nanoseconds.
On the master side, very inexpensive, commercially available standard network interface cards (NIC) or any on board Ethernet controller can be used as hardware interface. The common
feature of these interfaces is data transfer to the PC via DMA (direct memory access), i.e. no CPU capacity is taken up for the network access.
EtherCAT reaches new dimensions in network performance. Thanks to FMMU in the slave nodes and DMA access to the network card in the master, the complete protocol processing takes place within hardware and is thus independent of the run-time of protocol stacks, CPU performance or software implementation. The update time for 1,000 distributed I/Os is only 30 µs. Up to 1,486 bytes of process data can be exchanged with a single Ethernet frame - this is equivalent to almost 12,000 digital inputs and outputs. The transfer of this data quantity only takes 300 µs.
The communication with 100 servo axes only takes 100 µs. During this time, all axes are provided with set values and control data and report their actual position and status. The distributed clock technique enables the axes to be synchronized with a deviation of significantly less than 1 microsecond.
The central PC becomes smaller and more cost effective because additional slots are not needed for interface cards since the onboard Ethernet port can be used. With increasing miniaturisation of the PC-components, the physical size of Industrial PCs is increasingly determined by the number of required slots. One Ethernet interface is sufficient for the complete communication with the periphery.
Regarding topology EtherCAT supports almost any topology: Line, tree or star.

JVL's EtherCAT module enables high speed real time Ethernet communication directly to the drives:
- 100 Mbit/s communication speed
- Response times in the sub-millisecond class
- 2 ports on the module offer Daisy-chaining possibility
- User friendly LED indicators
- Rough M12 connectors for industrial environment
- Option for 4 digital inputs, 2 digital outputs and 2 analogue inputs

For further information, please contact:
JVL Industri Elektronik A/S, Bregnerødvej 127, 3460 Birkerød, Denmark.