The Danish company of Beyerholm & Moe ApS supplies complete control units for precise motion control of 3-4 axes precision milling machines using JVL Mini-step Drivers
.
Beyerholm & Moe ApS in Gml. Holte north of Copenhagen and its UK subsidiary Beyerholm and Moe International in Milton-Keynes north of London have specialised in control units for precision milling and engraving machines. Annually the company supplies control systems for a very large number of engraving machines and also manufactures a number of specialised machines and develops customer-specific software.

The control unit produced by Beyerholm and Moe is based on a standard PC-board supplemented by a microprocessor-based control board equipped with Beyerholm & Moe's own software.

Both servo and step motor solutions were tested for the machines. Step motors were chosen because they clearly offered the greatest accuracy for control of both velocity and position. JVL's Mini-step Drivers SMD41 were selected as the driver for the motors. This was due to the SMD41's compact design and the fact that both step-resolution and curve form could be selected according to need, thus achieving optimum control at maximum velocity.
The software uses an acceleration profile which regulates each motor's velocity throughout the entire operation, to position the motor as quickly as possible yet maintaining completely smooth operation. This is an important factor since smooth operation is a requirement for a proper finish that does not require further work after milling. A high throughput is naturally also a requirement for a profitable machine.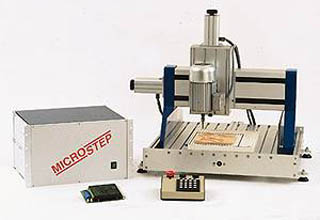 Engraving machine with control unit and control panel. In the foreground, a JVL Mini-step Driver mounted on a plug-in card. Each control unit contains 3-4 of these cards which are powered from a common power supply.
The step motors are normally operated at between 4 and 10 mini-steps per full step. This relatively low step resolution has resulted in the desired smooth operation. It has been chosen to ensure that the control system functions satisfactorily even with relatively highly non-linear step motors, which have proved to operate poorly at high step resolutions. In the construction of new machines, a higher step resolution would normally be preferred. Beyerholm & Moe, which is definitively one of the leaders in its field, now has plans for production of its own machines in specialised areas.
Beyerholm & Moe homepage