The company Sorenco produces advanced machinery for grinding punches and dies
A Punch Grinder is specially constructed to grind punches and dies for revolving punch machines. Despite the Punch Grinder's apparently simple exterior and a relatively limited number of functions, it was necessary to use an advanced JVL controller.

The Punch Grinder incorporates a controller consisting of JVL Indexer SMI31 together with Step Motor Driver SMD41 and Step Motor MST232. The controller system enables the Punch Grinder to perform a smooth vertical displacement of 0.1mm/8min., in which the load is a turntable of approximately 70kg. This very slow vertical movement is necessary to grind HSS materials up to 150mm in diameter. Grinding of the tools occurs using an oil-cooled CBN grinding wheel. Mechanical movement of the turntable is achieved using hydraulics with a ratio of 1:25 between the step motor and the turntable spindle.

The process itself consists of surface-grinding/finishing a die or punch. The tools are gripped in a 3-jaw chuck at the centre of the turntable. The turntable is positioned under a grinding wheel so that the periphery of the grinding wheel is centred on the turntable. The turntable and grinding wheel are rotated relative to each other to achieve a completely uniform grinding of tools - a decisive factor for punching holes in sheet metal and aluminium. In addition, it is possible to angle the jaw chuck for angled and roof-top grinding.

The very precise control of the turntable is alone due to the fact that the step motor - despite a rotational speed of 1 revolution per 8 minutes - is able to maintain full torque.
JVL's Step Motor Indexer SMI31 performs many tasks in the controller system. In addition to advancing the step motor at a very accurate rate, it checks various sensors for positioning the turntable, a microswitch that controls the end-of-travel on the spindle, as well as alarm contacts that are monitored so that the process can be interrupted if necessary. It also ensures that the door to the grinding
chamber is closed throughout the process and amongst other things it monitors an analogue sensor for correct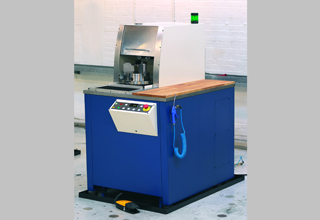 The complete Punch Grinder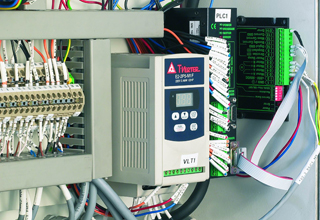 Part of the control system, with Indexer SMI31
measurement of the height of the tool in relation to the grinding wheel.
More information about: