Classic Flowers has built a machine for automatically repotting plants

Plant nursery, Classic Flowers in the town of Langager on the Danish island of Funen commissioned an automatic machine for repotting small plants to larger pots.
The machine functions by feeding the larger pots on a belt. Boxes with the small plants are fed on a separate belt and aligned with the large pots.

A row of grasping arms moves over the small plants and lifts them towards the larger pots, adjusting the distance to match the spacing between the large pots. The plants are then placed in the large pots with the correct amount of soil and the repotted plants are subsequently fed for packing in boxes before being returned once more to the greenhouse for further growth.

The grasping arms are controlled pneumatically, while the 2 transport belts are driven by electrical motors. The crossbar boom's vertical and horizontal movement is controlled by 2 Yaskawa 0.75kW AC servo motors type SGM-08, each of which is controlled by a JVL AC Servo Motor Controller AMC20. Overall control of the machine is performed by a PLC. The AC servo controllers operate in register mode thus ensuring the correct positioning of the boom in both directions.

The machine can be easily reprogrammed to adjust to the number of pots in each row of the boxes. Selection of the operating program is made via a control box. With 5 arms (5 plants in each row) the machine has a capacity to repot 3000 plants per hour. With 7 arms, the capacity increases to 3500 plants per hour. Classic Flowers has an annual production of approximately ½ million summer plants.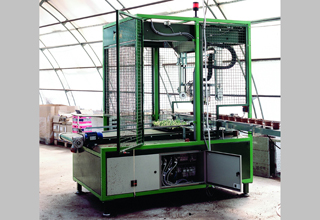 The complete repotting machine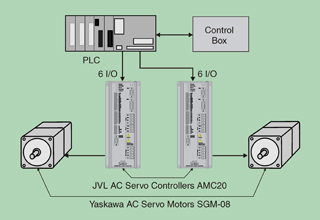 Set-up of the control system with the two AMC20 AC Servo Controllers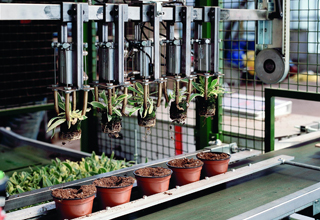 Details of the grasping arms and the repotting process