Danish company Quickwood ApS uses 3 JVL MAC motors and 1 JVL step motor in its newest robot

The new LC1 robot produced by the Danish company of Quickwood ApS has been designed and constructed on the basis of increasing demand for operationally stable and robust industrial robots that offer low installation costs and short return on investment. The robot utilises the latest in robotics technology, and is for example equipped with a total of 3 JVL MAC141 AC-servo motors, with built-in controller, encoder, etc. JVL motors were chosen because of their compact design, facility to operate on the required bus system, their application versatility, well-proven technology, performance and competitive price.

The robot head itself utilises a JVL MST232 step motor, controlled by JVL driver SMD41B3.
The robot is controlled by Soft NC PLC and Motion software, which complies with the requirements of IEC 61131-3 as well as the ISO standard for G-code programming widely known in the field of CNC.
The robot is primarily manufactured in aluminium and all movable parts are made of a particularly durable and robust polymer that is maintenance-free and withstands most types of chemicals.

The low weight of the robot arms and the use of modern technology also give the additional benefit that the unit has a remarkably low power consumption of only 650 Watt at full load.

The load capacity of the robot is 15kg and its range is 1100mm. In addition, the robot can be rail-mounted to facilitate a larger working radius.
On Line monitoring
The advanced 64-bit operating system Soft NC provides programmers with many possibilities such as on-line monitoring of all variables, on-line adjustment, off-line programming, simulation using 3-D animation of the robot, and much more.

The Soft NC programming platform transmits motor data to the MAC motors via an Link system.
8-in-one software.

The Soft NC software is capable of controlling up to 8 LC1 robots via SMCLink, working either synchronously or asynchronously. The major advantage of this facility is that all robots on the link are operated by the same programme. This makes the LC1 robot particularly well-suited for applications in which several robots must work together, since signalling between machines can be completely omitted.

In order to minimise programming time, the controller is equipped with functions for automatically generating 3 dimensional bevelling.

The controller offers a complete range of extension opportunities, such as via Internet, Ethernet, CANopen, Profibus, LON, DeviceNet, Interbus, etc.
More information about: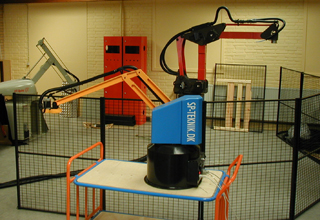 The LC1 robot. One of Quickwood´s LCQ robots is seen in the background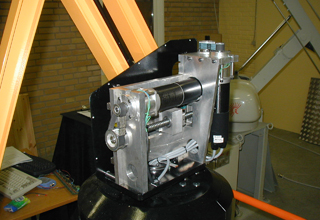 The MAC141 motor with built-in brake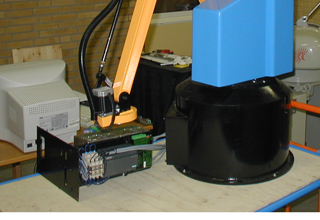 The MST232 step motor in robot head