PRESS RELEASE FOR IMMEDIATE RELEASE:
August 29, 2014.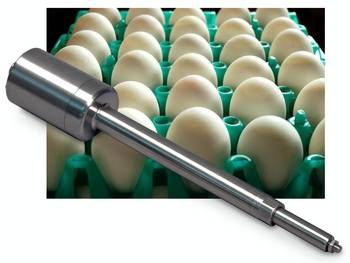 Birkerød, Denmark -- JVL's integrated MACTUATORTM electric cylinders are ideal for food and beverage processing equipment used in caustic washdown environments, where corrosion resistance, intrusion protection and hygienic design are critical. The MACTUATORTM electric cylinders feature smooth edges, stainless-steel construction, welded joints, and a bracket design to
prevent contamination of the work environment. These design features have earned the MACTUATOR USDA certifications for meat, poultry and dairy processing applications.
Actuator + motor + controller + encoder + fieldbus communication =The Integrated MACTUATORTM electric cylinder. It is the world's first totally integrated actuator with IP67 or IP69k protection.
An economical, efficient rod-style electric actuator designed as an alternative to pneumatic and hydraulic cylinders, they are suitable for applications including: Volumetric filling, cutting, product changeovers, diverting/sorting, pressing, etc.
It is ava
ilable in six body sizes, stroke lengths to 1000 mm, speeds to 1500 mm/sec., and forces to 20.03 kN. MAC Integrated Servo motors or QuickStep Integrated Stepper motors can be mounted inline with the actuator or in a reverse-parallel that makes a more compact package.
About JVL
- JVLis recognized as a leader for its development of efficient and compact integrated motors for VAC and VDC. MAC motor series of integrated VAC servo motors (up to 4500W and 13,5kW peak), and the QuickStep integrated stepper motors (up to 25Nm). Both series includes the controller, PLC, encoder, AC power supply and bussystem integrated into one compact unit. All industrial ethernet busses like Profinet, EtherCat, Ethernet IP, Modbus TCP, Powerlink etc. are available. JVL's wide selection of quality products also include: VAC Servo motor controllers, Motor drivers (Stepper, VAC and VDC), Brakes, Gears, and HMI Modules.
For further information, please contact:
JVL Industri Elektronik A/S, Bregnerødvej 127, 3460 Birkerød, Denmark.
Tel. +45 4582 4440.
E-mail: jvlnyt@jvl.dk. Web: www.jvl.dk
Download pictures in high resolution