PROFINET offers a scalable performance with three performance levels:
TCP/IP: for non Real Time applications
Real Time (RT): for Real Time transfer of time-critical process data
Isochronous Real Time (IRT): for motion control applications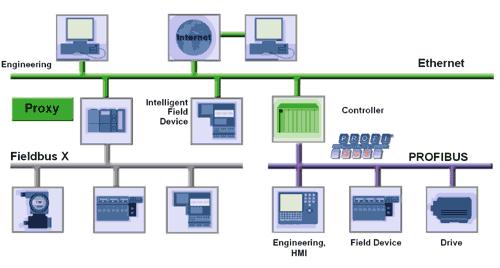 PROFINET includes two modes and allows to combine distributed automation and distributed I/O.
Distributed I/O (Remote I/O) is connected through PROFINET IO. Here, the familiar I/O view of PROFIBUS is retained, in which the user data from the field devices are periodically transmitted into the process model of the control system.
PROFINET IO describes a device model, consisting of places of insertion (slots) and groups of I/O channels (subslots). The technical characteristics of the field devices are described by the GSD (General Station Description) on an XML basis.
This variation is an advanced concept for industrial automation which fulfills the requirements of plant builders and operators for an system-wide and manufacturer-spanning engineering process. The PROFINET component model sees its real use in distributed automation systems. It is ideally suited for intelligent field devices with programmable functionality as well as controllers.
PROFINET CBA is based on the object-oriented modelling of technological modules. Based on the object model, machines and installations are structured in PROFINET in the form of technological modules. The functionality of the technological modules is encapsulated in uniform PROFINET components.
From the outside, PROFINET components are accessed through uniformly defined interfaces. They can be arbitrarily connected in this way.