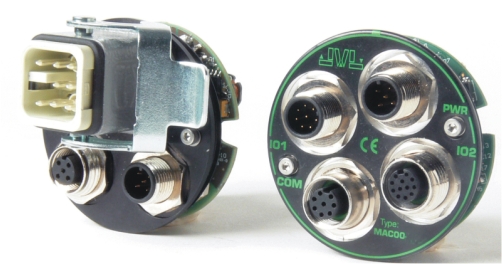 The new expansion modules MAC00-P4 and MAC00-P5 for JVL's MAC motors are intended for use in applications that require a 4-20mA analogue interface to control motor movement.
The interface consists of a 4-20mA input to control motor movement and a 4-20mA output to indicate actual motor position.
4-20mA can also be used to specify speed, torque or another selectable motor parameter. Both offer full galvanic isolation from other circuitry, both within the motor and externally. An output is also included to indicate whether an error has occurred that prevents the motor from performing the required operation. This output is also galvanically isolated.
The MAC00-P4/P5 modules also provide the facility for another motor to act as a slave. A high-speed communications interface makes it possible to control a secondary motor configured as a slave, which means that the communication protocol always ensures that the slave motor follows the master. If an error occurs in either the master or slave motor, both are stopped.
·
Standard M12 and Harting connectors. (MAC00-P5) for maximum reliability.
·
Standard M12 connectors (MAC00-P4).
·
4-20mA analogue output. Resolution: 16-bit (65535 steps). Galvanically isolated.
·
4-20mA analogue input. Resolution: 16-bit (65535 steps). Galvanically isolated.
·
Error output. Galvanically isolated.
·
Communication interface for slave motor (includes +24V supply for slave motor).
·
Optically isolated communication which covers RS232, RS485.
·
Full RS232 protocol support for use with standard serial cable.
·
RS232 communication interface to PC for set-up and monitoring.
·
Supply input to control stage of the motor. Also used for slave motor if present.