JVL now introduces a MAC400 integrated motor for the medium power range
The new MAC400 provides all of the same features as the larger MAC800 model and in addition offers:
Absolute multiturn encoder
Prepared for PowerLink;
EtherCAT; Ethernet/IP;
ProfiNet and SERCOS
Even lower cost due to newest technology and production techniques
Improved 2-channel power dump circuit
2 RS422 channels for encoder in/output and SSI encoder, etc.
6 IO for capture of position; interrupt, counters, enable, timer and PLC functions
High-speed serial interface
Plugable power connectors
Natural cooling, no fan
Among the many well-known advantages of using an integrated motor like the MAC motor, the following can be mentioned:
Simple installation.
No cables between motor and driver
EMC safe.
Switching noise remains within motor Compact.
Does not take space in cabinet
24VDC for control circuits
Option for built-in brake
All MAC motors use the same expansion modules

CE approved/MAC800 UL recognised, pending for MAC400

Built-in mains supply in MAC400 and MAC800

Low price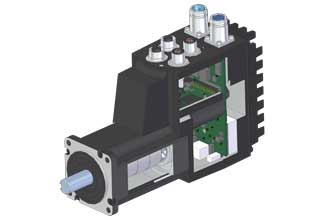 The MAC motors offer the following interface options:
From PC/PLC with drive-commands via RS232/RS485/RS422
Pulse/dir. or quadrature inputs.
12-bit ±10V input for speed, position or torque control
A+B encoder output
Register mode via 4 inputs or serial commands
Option for µPLC built-in

The new MAC400 model has been developed because of customer requests for a mid-range solution in the highly successful MAC series. We are sure it will live up to the strict requirements we put on all our MAC motors regarding performance, versatility and reliability.