Ferroperm Optics A/S uses 3 MAC motors for drilling optical glass filters
Ferroperm Optics A/S in the town of Vedbæk north of Copenhagen produces, amongst other products, optical filters that are used primarily in the medical industry.
The filters are small coloured glass discs which are used to filter the unwanted harmonics that occur when illuminating an object at a specific frequency, and which themselves are inevitable in precision filters.
The chromatic filters are manufactured from 50x50m glass sheets up to 6mm thick, where large numbers are glued together and mounted on a metal sheet. After drilling, the individual filters are separated by heating.
The drilling machine used to manufacture the filters is a Fehlmann Picomax 20 equipped with a co-ordinately driven table. The mounted filters are held magnetically on the table which is moved in the X- and Z- axes using 2 JVL MAC800 motors. A total of 19 mounted filters can be attached to the table. The drill used is a cylindrical diamond drill which is controlled vertically by a JVL MAC140 motor via a 20:1 TR gear. All 3 MAC motors are equipped with an RS232/RS485 expansion module MAC00-B4 with M12 connector.
Overall control of the machine is accomplished from a PC using a program developed in LabVIEW by Ferroperm A/S engineer Jens Sørensen. The program includes a calibration procedure to check the vertical movement of the drill.
Jens Sørensen highlights the fact that use of the MAC motors made the construction of the machine so simple that a separate control cabinet was unnecessary, since all the electronics are built into the motors themselves and the motors can communicate directly with LabVIEW via a built-in JVL OCX driver. Another significant advantage is that the drill's vertical position can be read directly.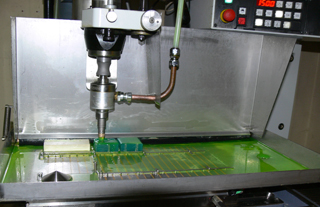 Drilling of the glass filters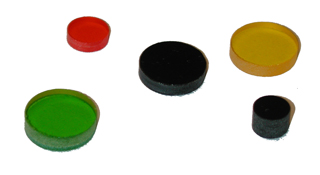 Examples of finished filters
More information about: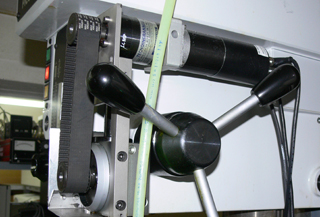 The MAC140 motor used to control the vertical position of the drill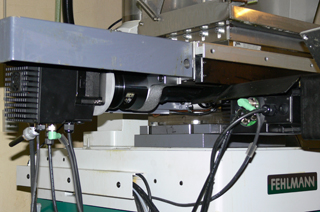 The two MAC800 motors are used to control the positional coordinates of the table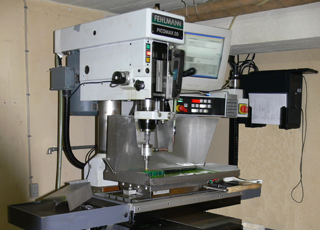 The complete machine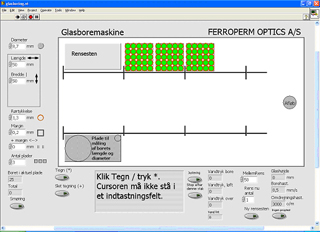 LabVIEW display of the work process