The world's largest manufacturer of motorised roller drives is now ready with the first servo-motor controlled roller drive in the world.


JVL A/S and Interroll have announced that in cooperation they have developed a completely new servo-motor controlled roller drive based on JVL's unique integrated MAC motor.
The new development arose from Interroll customers' increased requirements for roller drives that offered more precise and preferably dynamic control facilities. Interroll had met these requirements using frequency converters and, in many cases, through the use of new vector-based models, but many applications presented additional demands on other factors such as positioning, which required the use of an external encoder.
Approximately 2 years ago, Interroll came up with the idea of replacing its AC motor with the JVL MAC servo-motor, not least because:

- The price of servo motors had fallen
- The MAC motor's compact design meant that it could be used to replace the normal AC-motor with relatively few adjustments
- Two acknowledged and well-proven components would be combined:
- JVL's MAC motor with its 5 year proven track record
- Interroll's 20 years of extensive experience with the design and manufacture of mechanical units

In only 3 months, JVL produced the first servo roller drive in the world, based on well tried and tested components and technology. Interroll now had a price and performance competitive alternative to the "old" three-component solution.

The intention was to present the new innovative design to existing Interroll customers in order to "test" the concept in the real world. And the response was very positive, so after a final market analysis Interroll decided in January 2004 to beta-test IntelliDrive® (as the new addition to the family had been christened).

The feedback from the market was very positive:

- Quick and easy to install
- Very user-friendly software
- Competitive compared to traditional solutions
- Greatest interest in applications for packaging machines and food processing.
Based on the positive results, Interrroll decided to introduce IntelliDrive® on the market. The first IntelliDrive® units appeared in August 2004, and the first application has already been commissioned and is operational.

Interroll's expectations of the new product are great, despite the fact that in many ways it breaks with the company's traditional core expertise in mechanical design and construction.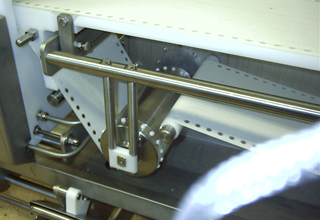 The drive unit with built-in MAC motor and gear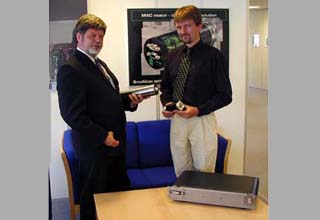 Interroll Sales Manager, Erik Kaiser (left), JVL's Director of R&D, Bo Valeur Jessen, and the new roller drives.


Experience has shown that the new technologies are very applicable to specialised machinery in particular, a fact that is currently being demonstrated with the incorporation of IntelliDrive® into numerous customers' developments of new and performance improved machinery for various purposes. These include:


- Automatic sowing machines - indexing
- Simpler and cheaper
- Meat slicing machinery - positioning
- Greater accuracy — higher yield for end-user
- Dynamic weighing machines — velocity and torque
- Greater accuracy and more compact design
- Machinery for folding bed linen — torque and positioning
- Compact and cheaper


One new development project that merits special mention is a customer's development of a video-controlled robot, in which the key factors are simplification and cost reduction.
The opportunities afforded by the innovative new product are numerous, and already now Interroll sees potential for the use of JVL's larger MAC motors in Interroll's large roller drives. The decision to implement such solutions will depend on market success of the small IntelliDrive®, which so far looks very promising.