Tobacco Machine Manufacturer Reduce Costs, Labour and Increase Performance with Integrated Servo Solution
Nearly 130 years since the founding of Molins, the Tobacco Machinery division (MTM) in England continues to build upon its proud tradition in the creative design, manufacture and supply of tobacco-related equipment and services.

Molins Original Equipment encompasses all elements of the secondary process, from the Passim & MK9R Cigarette Maker, hundreds of which are operating throughout the world, through handling equipment, such as the Concord reservoir, MTU tray unloader and Pegasus plug distribution system, to packing combinations, founded on the HLP series of packers. Molins remains dedicated to the development of innovative products and services, designed to meet the multi-faceted needs of the tobacco industry in the new millennium, and to its commitment to play an active partnership role in the continuing success of its customers.

As a further development Molins has looked into the latest technology available to increase productivity and decrease costs. Part of this process was to eliminate build time and complexity of each machine. Mike Kent Senior Systems Manager at Molins could see a great need to replacing Stepper Motors on their current Pegasus Distribution System. "Our Old system comprised of large 57 Frame Stepper Motors, Separate Stepper Drivers, Controller and Power Supply all mounted in a control cabinet with a PLC for control".
JVL experts in the field of Integrated Servo and Stepper Motors came up with the ideal solution. Servo Motor, Encoder, Servo Drive, Power Supply and Controller all in one Box the "MAC800".
Molins managed to save money not only on the cost of parts for the machine but also made the machine less complex, reduced their cabinet size by 75% and performance and dynamic response was further improved.
Speaking about JVL solution Mike Kent added "The technical support and knowledge from the JVL team were outstanding, we now have a more efficient and dynamic product, greatly reduced man hours on build due to the integrated solution and enhanced reliability. The major
cost savings were a significant reduction in the size of the control cabinet, reduced man hours on assembly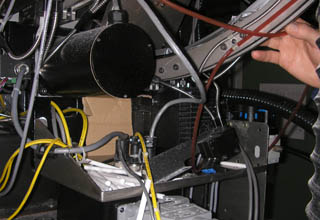 Old solution with Stepper Motors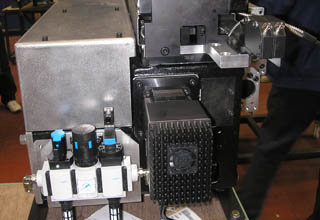 New Integrated Servo Solution
and the ease of integration with our present control system made the transition very easy."

The MAC range of Integrated Servo Motors and Drives are available from 50-800 watts in Power. All feature JVLs unique plug and play module system that allows any of the MAC range to support a wide variety of Bus/Controller options ie CANopen, Profibus, DeviceNet, High Speed RS485 and conventional analogue control.