Specially-developed JVL step motor controllers for Swedish firm

JVL A/S has recently completed development of a step motor controller which has been specially designed for a completely new design and patented type of regulation valve. The new servo valve, for regulation of fluids and gasses in process plant equipment, has been developed by the Swedish engineer and inventor Gustav Rennerfelt. The servo valve is manufactured at Roslagsverkstäderna in Hallstavik just outside Norrtälje, where 8 million kroner have been invested in new production facilities, already creating 10 new jobs.

The new servo valve has been named System Oden. In addition to the step motor controller and step motor, the system uses a unique, very compact, stable gear with a high gear ratio to control the opening of the valve. A hermetically sealed valve has also been developed and patented. The maximum torque rating is 220 Nm and the weight is only 8 kg. In comparison a corresponding pneumatically-controlled unit weighs 16 kg and an electrically controlled unit 25-40 kg. In addition, the new servo valve is far less expensive to operate and has far fewer moving parts, thus ensuring great operational reliability and long life. Two other models providing torques of 50 and 500 Nm are under development.

The step motor controller is a very compact unit which can be mounted directly above the motor in the valve housing.
4-layer PCB technology and the latest generation of Power MosFets have been used in the driver stage. This ensures minimal heat dissipation and cooling fins are unnecessary. The motor position is controlled by an input signal of 4-20mA. A corresponding output enables the valve's position to be read. Set up of the velocity, acceleration, rotational torque and hysteresis is made via a compact RS232 interface using Windows-based software developed by JVL. The driver supplies 6.8A per phase at a nominal voltage of
24V. Since the controller is required to operate over a wide ambient tempe-rature range from -25 to +60°C,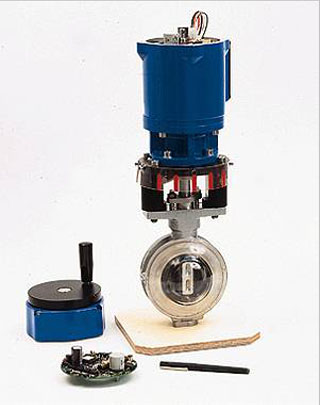 special care has been taken in the selection of components.
In the Scandinavian countries these unique new servo valves are available from Alnab Armatur AB.