Drill and tapping machinery modernised using a step motor system from JVL. Additional I/O Module and Keyboard/Display Module provide independent selection of job pieces.

The Danish company Garre Transformer A/S manufactures specialised transformers. Cabling is achieved via a small brass terminal block (of various sizes) in which two holes are drilled and tapped. This brass terminal block was previously manufactured manually. First the blocks were cut to the required length. Holes were then manually drilled in each block and finally a thread tapped in each hole. Garre Transformer decided that this operation should be taken over by a machine.

The company of LLP maskiner ApS in the town of Vemmelev was contacted to undertake the job of automating the task, and LLP maskiner in turn contacted JVL who joined the project as supplier of motor controllers and the job transport table elements. A Rollax linear transport system from the Swedish company of Precisions-Produkter AB was selected for transporting and aligning the terminal blocks. The Rollax system is especially immune to drill shavings and is extremely robust. Since a positioning accuracy of within 1/10th of a millimeter was required, a step motor system was selected. As the active motor controller and PLC for control of all of the machine's functions, a JVL Step Motor Controller SMC14 was selected, with an additional JVL Input/Output Module and a Keyboard/Display Module for keying in selection of the job pieces and various user data. The complete system comprises:
SMC14B
. Step Motor Controller with module interface and built-in 230 V AC mains power supply.
IOM11
. Input/Output Module providing an additional 16 inputs and 8 outputs.
KDM10T.
Keyboard/Display Module with 2 lines of 24-characters and 24-key keyboard.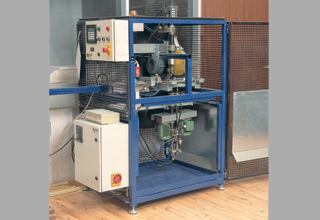 Drill and tapping machine at the Danish company of Garre Transformer A/S

Rollax transport system.
500 mm Rollax system with step motor mounted. Accuracy better than 1/10th mm.
Construction and assembly of the machine was carried out at LLP Maskiner and the control program was written by JVL. Installation and commissioning of the system on site at Garre Transformer were carried out by LLP and JVL in collaboration. The end result is a machine which is easy to use and adjust, and which produces completely uniform products without error and with greater precision than that previously attained by manual production.

The savings made by the introduction of the new machine at Garre Transformer have recouped the investment expenditure in less than a year. Between 2 and 3 hundred thousand units are now produced annually by the machine.
More information about:
Garre Transformer A/S homepage