JVL - world leader in integrated servo and stepper motors at SPS IPC Drives 2015 in Nuremberg from 24th to 26th November in hall 4 booth 301.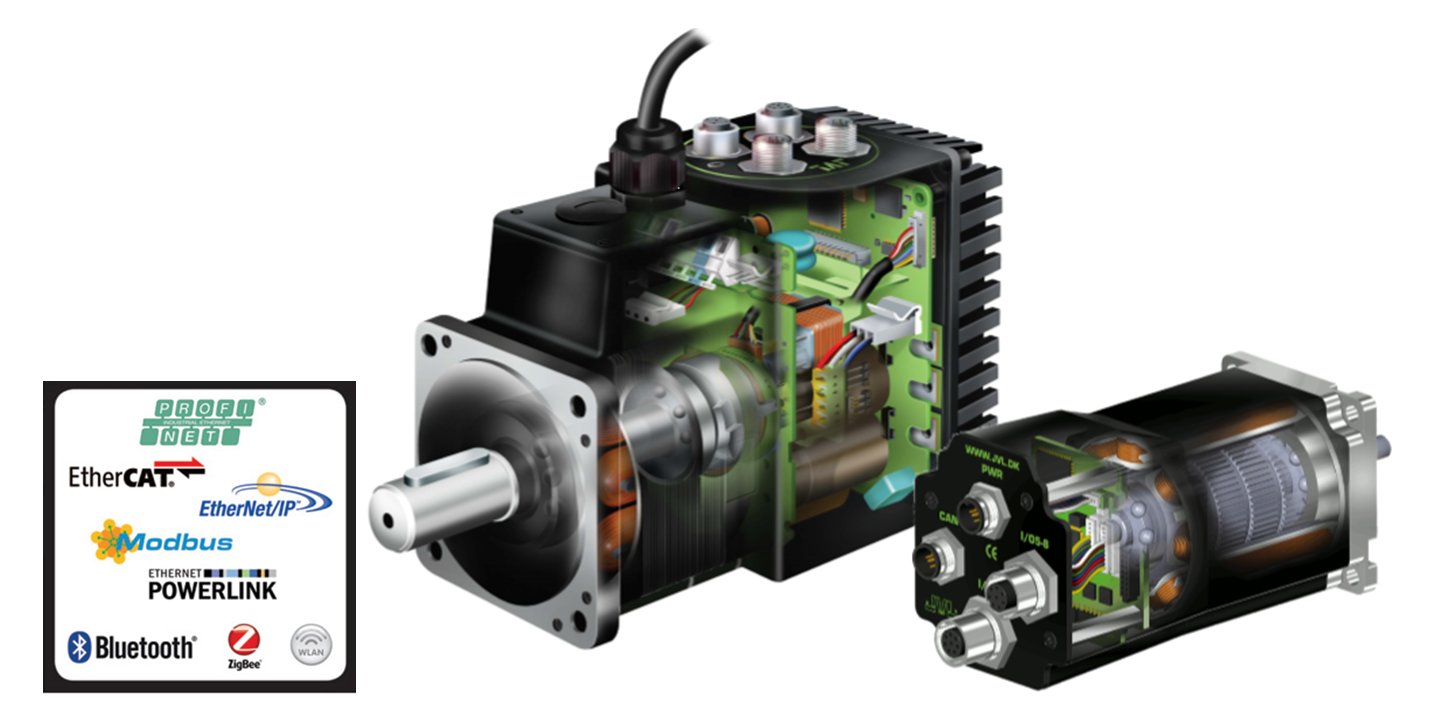 Visit our stand and see many industrial Ethernet solutions in combination with our integrated servo and stepper motors. We offer a complete range of integrated stepper motors from NEMA17 up to NEMA43 and integrated servo motors from 50 W to 3000 W, both with built-in controllers.
Worlds Most Compact 1500 W Integrated Servo Motor
JVL's newest is a complete, high-capacity MAC motor®with rating of 1500W. The MAC motor
®
sets completely new standards for the performance and size of servo controls.With a length of only 250mm for a 1500W motor with a torque of 4.78/14.3 Nm at 3000rpm, this MAC motor matches the size of traditional servo motors without built-in controllers with flange 130x130mm. This has only been possible through the use of extremely compact motors and the development of electronics and mechanics that utilise the latest technologies and manufacturing methods.
Waterproof 400 W Integrated Servo Motor
We will show the MAC400 (400W) in an IP66 protection version. This means that the motors are particularly well suited for applications in demanding environments, such as the chemical, medical and food processing industries. IP66 protection of the motors is achieved by a watertight seal on the shaft bearing using a special Rulon® Teflon bush. This has a very low friction and requires no lubrication. The flange and shaft are manufactured in stainless steel.
Integrated stepper motors with Profinet
JVL has launched a new series of integrated stepper motors with Profinet and programmable motion controller. All the necessary electronics in a stepper system is integrated in the motor. JVL has used the latest technology to achieve the incredibly high step resolution of 409,600 step / revolution, resulting in unsurpassed smoothness and silent running. The MIS34 will be available in 4 sizes from 3 up to 12 Nm.
Waterproof and Dustproof Stepper Motors for Harsh Environments!
We now offer a series of NEMA 23, 24, and 34 stepper motors with standard IP67 and optional IP65 protection. These rugged, compact, steppers use rare-earth magnets for high power and cooler running and have a torque range from 1.2Nm (169.9 oz-in.) to 8.2Nm (1161.2 oz-in.) and a high torque-to-inertia ratio for quicker acceleration and deceleration, as well as a high torque-to-mass and torque-to-volume ratio.
They feature special IP67 rated seals at the rear end and between stator and flanges, a special Teflon seal around the stainless steel shaft as well as leak-proof cable entry.