Waterproof and Dustproof Stepper Motors for Harsh Environments!
PRESS RELEASE
: May 13
, 2015. JVL, Birkerød, Denmark
NEMA 23/24/34 Stepper Motors Feature IP67 Protection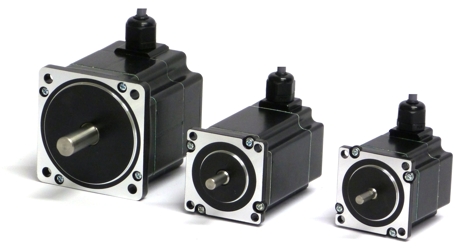 Birkerød, Denmark
--
JVL
Industri Elektronik
now offers a series of NEMA 23, 24, and 34 stepper motors with standard IP67 and optional IP65 protection. These rugged, compact, steppers use rare-earth magnets for high power and cooler running and have a torque range from 1.2Nm (169.9 oz-in.) to 8.2Nm (1161.2 oz-in.) and a high torque-to-inertia ratio for quicker acceleration and deceleration, as well as a high torque-to-mass and torque-to-volume ratio.
They feature special IP67 rated seals at the rear end and between stator and flanges, a special Teflon seal around the stainless steel shaft, and leak-proof cable entry provides waterproof sealing. These cost effective motors are designed for harsh and wet environments such as Food processing, pharmaceutical, medical, and chemical industries.
Dustproof and waterproof, these steppers can operate in extremely contaminated environments, can be totally immersed in water or cleaning solutions, and washed with high pressure hoses. These efficient 2 phase, 3A to 6A stepper motors (200 step/rev.), with long life bearings, are designed to handle high axial and radial shaft loads. JVL Stepper Motor options include: Custom shafts, Teflon
®
shaft double seals, stainless steel end bell and flange, built-in encoder, programmable controller, drive, brake, and integral planetary or worm gearheads. A thick protective layer of epoxy as a surface treatment can also be bonded to the motor body.
About JVL
- JVL is recognized as a leader for its development of efficient and compact integrated motors for VAC and VDC. MAC motor series of integrated VAC servo motors (up to 4500W and 13,5kW peak), and the QuickStep integrated stepper motors (up to 25Nm). Both the servo motor and stepper motor series includes the controller, PLC, encoder, AC power supply and bussystem integrated into one compact unit. All industrial ethernet busses like Profinet, EtherCat, Ethernet IP, Modbus TCP, Powerlink etc. are available.
JVL with more than 25 years of motion control experience enjoys a reputation for the development of highly specialized integrated motors with industrial ethernet and customized improvements. They work together with their customers and representatives to find an economic, yet technically advanced solution to complicated control applications.
JVL's wide selection of quality products for motion control components include: Integrated VAC and VDC Servo motors, Integrated Stepper motors, VAC Servo motor controllers, Motor drivers (Stepper, VAC and VDC), Brakes, Gears, and HMI Modules.
For further information, please contact:
JVL Industri Elektronik A/S, Bregnerødvej 127, 3460 Birkerød, Denmark.
Tel. +45 4582 4440.
E-mail: jvlnyt@jvl.dk. Web: www.jvl.dk
See pictures in high resolution